The Civil Wars "The Civil Wars"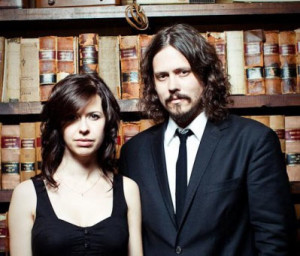 I first heard The Civil Wars on a local NPR syndication a few weeks back, and I was intrigued by their sound. I would describe it as being a more modern variation of folk music but still very true to its roots.
The duo, composed of Joy Williams and John Paul White, relies heavily on their two part harmonies and interchanging verses to separate them from many other acts in their genre. When I first heard them on the radio, I thought of their music as being similar in format to the folk music of the late-60s and 70s.
However, the sound is very modern.
While it certainly bears resemblance to the roots of folk music, the arrangements are a bit more unique. Some songs on their eponymous sophomore release use a distorted muddy-sounding guitar as accompaniment, drawing comparisons to some old blues musicians.
This blend of musical styles works in their favor, largely contributing to the mood of the album, which can be very dark and dismal at times.
My favorite tracks on the album would have to be "I Had Me A Girl," "Dust To Dust," "Devil's Backbone," and the closing track "D'Arline,"
Overall, I wasn't totally blown away self-titled "The Civil Wars." But I wasn't really disappointed either.
For me, there were a few standout tracks, some emotionally-charged moments, and a whole lot of heart – certainly not a misstep for the band, by any means.
-Jake Tapley