Art professor tours 25 states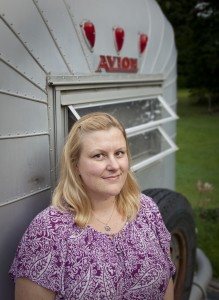 Kristen Wilkins in front of her 1964 trailer, Alice Avion.
Kristen Wilkins, art associate professor, traveled through 25 states in 73 days for the purpose of nostalgia and memory triggering images in a 1964 Avion Sports trailer named Alice.
"I've always loved to travel," Wilkins said. "There's this sense of freedom when you leave in the car."
Wilkins moved to Evansville in August 2012, to accept the art position at USI. During her first year she applied for the USI Summer Fellowship program that grants money to new, tenure track faculty.
"These fellowships are so that faculty don't teach in their early summers so they can get a jump start on their research," she said. "You also have to show promise in your work and teaching to the university."
Wilkins always knew she would receive the fellowship, even after hearing rumors that first year professors don't usually get it. But she did.
The fellowship totaled $7,000, which funded her final journey, completing her project.
"The road trip took longer than expected," Wilkins said. "Which is OK, you have to be flexible."
This trip was different for Wilkins. She gained more of a focus.
"Before if I didn't see anything I wouldn't necessarily stop," she said. "But this time you have to say no, this is different."
The 18-foot aluminum trailer traveled 11,000 miles and used four propane tanks.
Wilkins bought the trailer in 2009, and has been taking cross-country road trips ever since.
The trailer was named Alice after the first woman to drive across the country in a car, Alice Ramsey.
Five years ago, while working a one-year teaching job at Wabash College, Wilkins thought maybe she could live in the trailer.
"Anyone can live anywhere for one year, and if you can't then you're not adaptable," Wilkins said. "You want to be ready for what life throws at you."
She was interested in making a documentary, but her plans changed when she didn't receive funding.
"When I first set out, I thought I was going to make a film about the economy crisis," she said.
"That wasn't vibing with my experiences. I found I wanted to be in the wilderness."
Instead Wilkins decided to take the road trip of a lifetime.
"I thought, 'what else can I do?' It's a great opportunity for a road trip," she said. "I thought maybe it's time for the road trip."
From then, Wilkins began researching aluminum trailers and found the lucky one online listed in Evansville.
"I decided I wanted a good trailer that was exciting to own, one that people would want to talk to me about," she said.
Thus began her first journey across the country in the aluminum trailer. Wilkins approached this trip differently by only driving on two lane highways, taking a more scenic route.
"As long as the road is going west, I'll just take it and see what happens," she said.
By taking main roads and sometimes using a map, she completed her six-week journey.
Wilkins continued these trips every summer, documenting with photographs. She eventually made a book with all of her photos compiled, which she showed to publishers and even exhibited her work.
The book showed Wilkins that she ignored the southeast portion of the U.S., which led her to inspiration for the final summer in 2013.
"I hope that when people look at these photos they can vicariously experience that these places are still there, not just on postcards," Wilkins said.
Wilkins explorations have gained much support in the art department.
"I think it's a fantastic project and a well-deserved grant," said Katie Waters, art professor.
What Wilkins does with her photography calls for a certain nostalgia that exists in America, and for traveling, she said.
Wilkins has a lot of faculty support as well as student support as well.
Senior Matt Perez said he is a huge supporter of side projects in the art department.
"If you want to be a working artist, you've got to make opportunities for yourself," Perez said.
Seeing professors doing side projects shows that anything is possible, he said.