'Elevating Excellence' campaign to be completed December 2015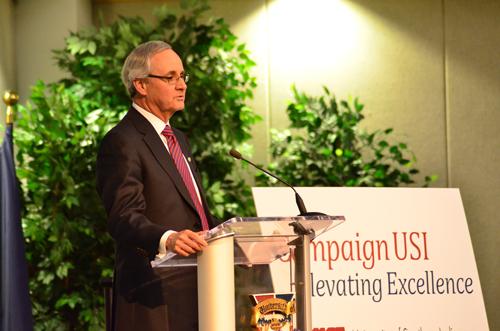 USI announced it was moving into the public phase of a $50 million capital campaign called "Elevating Excellence," and the university is almost halfway to that goal.
Thursday night Ron Romain, USI Board of Trustee member, chair of the campaign and 1973 USI graduate, announced the campaign and said it already had $26.7 million.
"That's a remarkable start," Romain said. "We're just now entering the public phase of the campaign, and you can see the broad support we have."
He said the $50 million, which has a goal to be obtained by December 2015, will go toward a variety of things for the university, including completing its strategic plan.
"The campaign is focused on scholarship endowment, completion of the teaching theatre, broadening student experiences such as travel abroad and internships, and expanding opportunities for our faculty to participate in activities that will positively impact teaching methods and scholarship," Romain said.
Romain said $50 million is a substantial amount of money, but is the perfect amount for USI to strive for.
"(The campaign) will stretch and challenge us, and I believe it's the right thing to do at this point in our history," Romain said. "No one ever achieved anything worth while with an average expectation."
David Bower, President of the USI Foundation, said the capital campaign is called "Elevating Excellence" to stress how great USI already is.
"The campaign planning committee wanted to emphasize that USI is a great institution already – we just want to make it even better," Bower said.
He said the staff has been working for about a year now in the "private phase" of the campaign to get donors to invite them to donate.
He said donors will make a commitment and will pay it over a five-year span, and the goal is to have all commitments by December 2015.
He said he thinks people will be eager to donate to the campaign.
"We think we have a wonderful story to tell," Bower said.  "We believe USI is a great institution, and we believe that when we encourage investment, people will respond. We think of this as an investment in a great institution."
This is the second capital campaign in USI's history. The first one ran from 1995-1998 and raised $24 million, with a goal of $13 million.
USI President Linda Bennett had a special announcement to make: Because Romain and his wife have donated $5 million to the campaign already, USI's College of Business will be renamed the "Romain College of Business."
"In recognition of their leadership and gratitude for their exceptional generosity to their alma mater, and to this community, it is a great honor and distinct pleasure for me to announce that the University of Southern Indiana's College of Business from this evening on will be known as the Romain College of Business."
Part of the donation paid for energy mogul T. Boone Pickens to speak Thursday night as part of a newly established Innovative Thinkers Series, said Dean of the Romain College of Business Mohammed Khayum.