In Rod we trust: Basketball head coach leads program to winning record
When Rodney Watson was hired as the USI men's basketball head coach in May 2009, the United States was in a recession, and the program he was set to take over had discovered multiple rule violations that led to the resignation of its former head coach.
He had just paid off his newly remodeled house in Illinois, was less than 1,300 days away from full-state retirement and also took a significant pay cut to earn the first head coaching position of his career.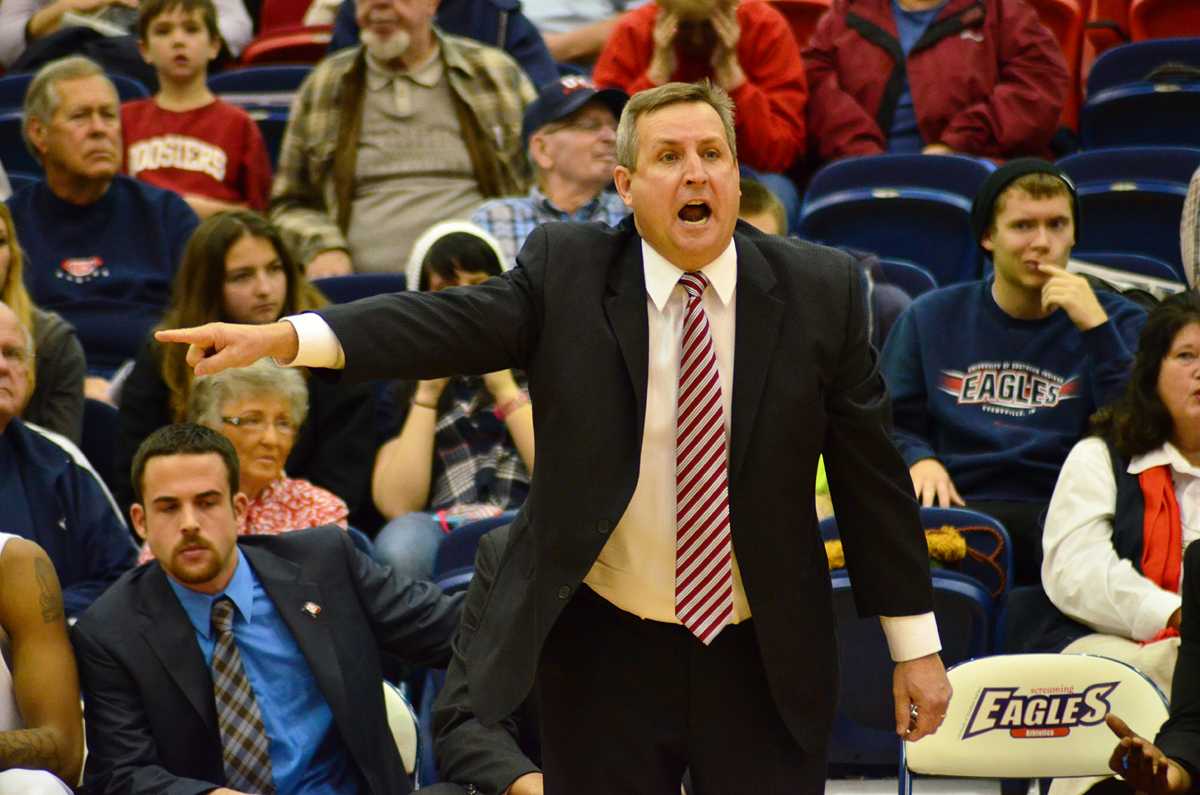 But more importantly, the new job forced Watson to enter a long-distance relationship with his wife, Carol, and their four children.
"I remember looking back at the press conference video," Watson said. "I looked scared to death and I was scared to death. I was thinking to myself afterward, 'Am I doing the right thing as a man? As a father? As a husband? Am I being selfish, or is this what I'm supposed to be doing?'"
There was no question whether or not Watson wanted the position. After spending 21 years as an assistant coach at Southern Illinois University, he finally had the chance to lead his own program.
Watson stays on campus during the week and takes turns with Carol, a school counselor, in making the two-hour commute back and forth to spend time together as a family. Now married for 24 years, he said their relationship is "as strong as ever" because of her unwavering support.
"It's tough," said Zach Watson, their oldest son and a sophomore two-sport student athlete at USI. "But she gets it. She sees how much he enjoys what he does here and that makes her really happy."
Just when Watson and his coaching staff had convinced players from the previous season to come back for another year, they faced a second roadblock.
Shortly before the team played in its first game of the season, university presidents from the Great Lakes Valley Conference (GLVC) unanimously voted to ban the Eagles from the postseason tournaments for one year because of illegal benefits and recruiting efforts under the watch of its former head coach.
With six seniors in their last season as collegiate basketball players, it was going to take more than just the coaches to keep the team focused, despite not having a chance to win a championship.
But the player that held the team together through it all was senior Jeron Lewis, who told teammates they had come too far to walk away. He had potential to continue to play basketball overseas after the season was done, but more than anything, he wanted to go back to Fort Wayne, work at the Boys and Girls Club and spend the rest of his time with his newborn child.
"It was Jeron, along with Jamar (Smith), who was the real driving force to say 'Hey, we're going to play a season. We'll just go out and beat everyone anyway,'" Watson said.
The Eagles began the season on a terror with 15 consecutive wins before Watson realized exactly why he made the difficult decision to leave his home. On Jan. 14, 2010, Lewis collapsed on the court in a game at Kentucky Wesleyan University. Less than an hour after being rushed to the local hospital, he was pronounced dead from a heart condition.
"It's like God opened up Heaven and said, 'Okay, dummy, you're not smart enough to figure this out on your own,'" Watson said. "Words were coming out of my mouth at the eulogy and the press conference that I had no control over. You don't learn how to handle something like that in a book. It's the reason why I get home the second I can on weekends to see my family, and I think it's the reason why our marriage is the strongest it's ever been. It was a horrific experience, and we all became men that night."
Now in his fourth season of his head coaching career, Watson has amassed a 76-16 record and led USI to a GLVC tournament title last season. He was the chain that linked together four head coaches at SIU, including the likes of current Kansas State University men's basketball head coach Bruce Weber and Purdue University head coach Matt Painter. Watson said the one common attribute in all of the men he coached with there was that "they were all good men."
The eighth-ranked Eagles are a perfect 4-0 to begin this season, but the former longtime assistant coach will never take full credit in constructing a winning team each year.
"He's almost obnoxiously humble," said Gerad Good, one of four assistant coaches on Watson's staff. "They always say the best are the ones that never want to talk about it. He doesn't see it as his team. He sees it as our team and that trust gives us a lot of confidence to do our jobs and make this such a great program. I've just never seen a coach treat people with the respect and care he does."