Women's basketball snaps losing streak
The USI women's basketball team (15-4, 7-4 GLVC) snapped a three-game losing streak on Thursday, beating Bellarmine University 67-58.
The visiting Knights' (16-5, 6-4 GLVC) five-game winning streak ended after failing to score in their final six offensive possessions and having just four field goals in their last 32 possessions of the game.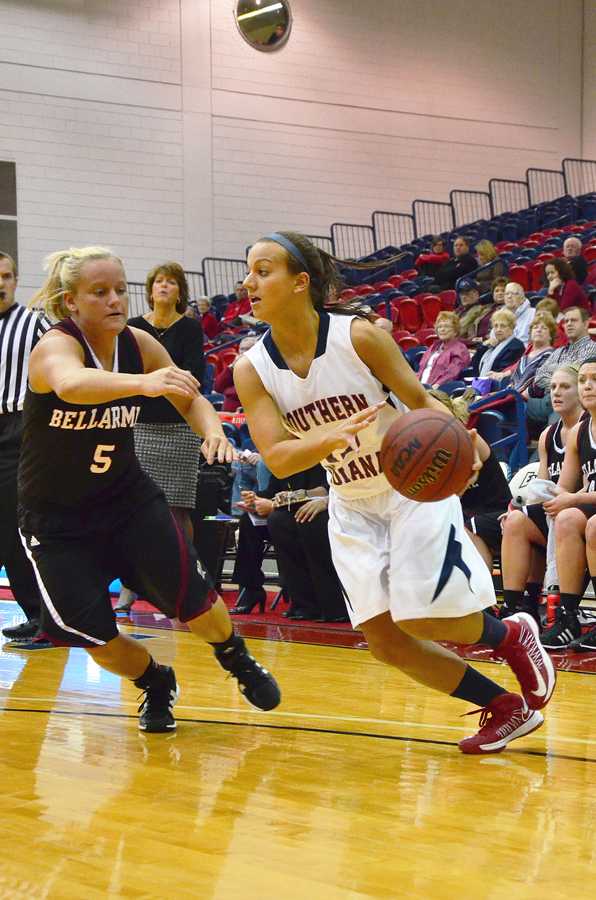 After a 12-4 run by the Knights the Eagles trailed, losing the lead for the first time all game.
"We had to turn up our defense a little more and stop giving them open looks," junior guard Ariel Barnes said. "We let them score too much and get inside the paint to draw some fouls."
The Eagles surpassed the Knights when they broke a 58-58 tie after Barnes made a jumper with 2:37 left to play.
After the jumper from Barnes and free throws by sophomore Mary O'Keefe, it was all about the Eagles shutting down the Knights' offense.
"We switched shooters to get through screens and get our hands up," Barnes said. "We wanted them to play USI basketball, so we forced them to take tough shots."
Sophomore forward/center Anna Hackert led the team with 20 points and nine rebounds. Junior guard Stephanie Carpenter rounded out the defensive front, grabbing six rebounds.
"When they were up by five or six, that's when we really locked it down defensively to close out the game," Head Coach Rick Stein said. "Now we have to build on our home games and take that mindset on the road."
After winning at home against Bellarmine last week in the PAC, the Eagles traveled to McKendree University Saturday, where they rallied from 13 down to defeat McKendree 73-63.
The Eagles take on Lewis University tonight in the PAC at 7:30.