Women's basketball team wins one, loses one
With only seconds left to play in the second half, the USI women's basketball team had to defend a one-point lead to defeat the fifth-ranked University of Indianapolis Greyhounds.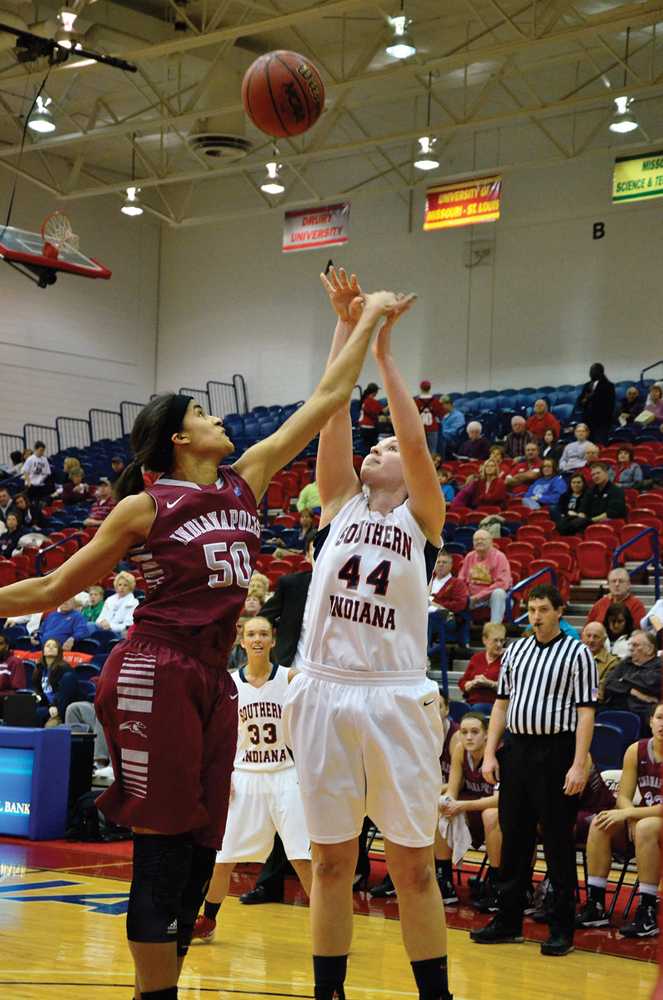 The Greyhounds put up a shot that was blocked by sophomore forward Anna Hackert, which allowed the Eagles to attain a 70-69 victory at home. Hackert, who scored 21 points and had 10 rebounds against the Greyhounds, has been named Great Lakes Valley Conference (GLVC) Player of the Week for a second time this season in a two-week time span.
"(The GLVC) is so tough, and that's why victories like this are so crucial – you have to win at home," USI women's basketball Head Coach Rick Stein said. "It's that time of year in the GLVC where it gets tough."
Junior guard Aubrey Minix scored a career-high 18 points against the Greyhounds, scoring four three-pointers in the first half. All of Minix's 18 points came from three-point baskets.
"I wasn't afraid to shoot the ball because I had my teammates there to get the rebound," Minix said. "My teammates just keep telling me to keep my head in the game and keep shooting the ball."
Leading the team in steals, junior guard Ariel Barnes had four steals and eight rebounds for the Eagles and scored 13 points.
"In the first half, we had some silly turnovers and our defense wasn't stepped up to what it should have been," Barnes said. "In the second half we came out and brought back the intensity that we were missing in the first half."
On Monday, the Eagles headed to Owensboro to face off against conference rivals Kentucky Wesleyan College (KWC), who hold a conference record of 6-1 with a record of 10-4 overall.
The game against KWC was a battle for first place in the GLVC East Division, and was also the last time the Eagles will face off against KWC before the Panthers leave the GLVC.
"At Kentucky we have to play the full 40 minutes," Barnes said in anticipation of Monday's game. "It's a big rival and we just have to stick to what we do well and execute."
Despite its determination, the team could not overcome a second-half comeback by the Panthers. The Eagles fell 68-59. Hackert led the team with 14 points and a career-high 20 rebounds.
The Eagles' conference record currently sits at 5-2 with an overall record of 13-2.
Today, the Eagles travel to Wisconsin to take on the University of Wisconsin-Parkside, who currently holds a GLVC record of 3-4 with a 6-9 record overall.