Men's basketball team beats fifth and fourth ranked teams
Coming off of a 90-81 win over St. Joseph's (IN) where defense looked to be optional at times, Southern Indiana head coach Rodney Watson knew his team's defense had to improve to win games against the GLVC's other elite teams.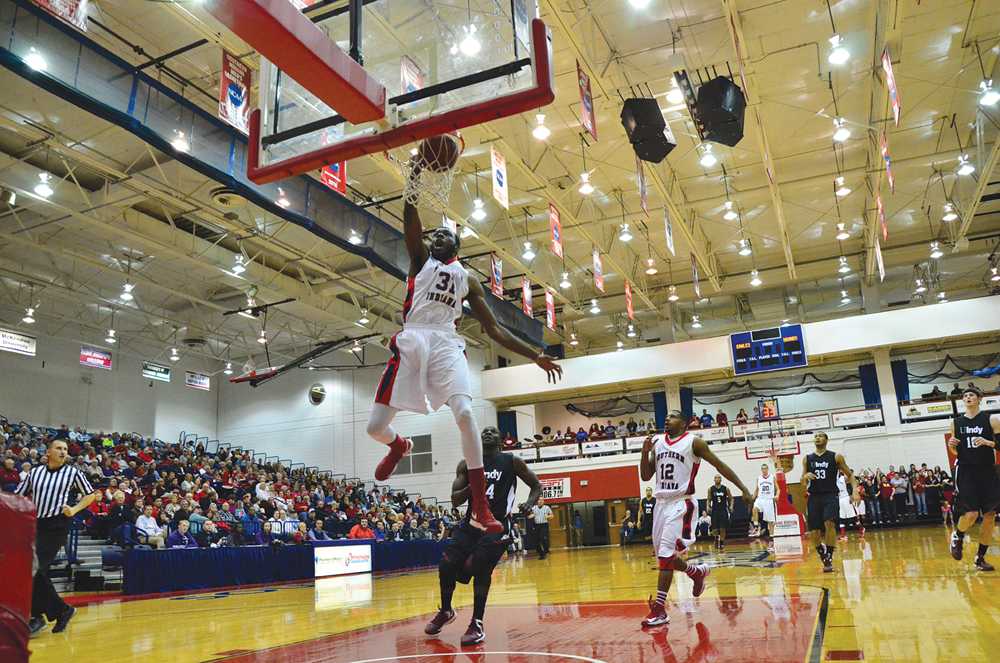 If Saturday's game was any indication, not only had it improved, but it looked dominant as the 15th-ranked Eagles cruised to a 69-55 win over fifth-ranked University of Indianapolis at the Physical Activities Center.
"There's no question that's the best we've played defensively," Watson said. "We really challenged shots all night and that's a good shooting team."
USI defended the boards too, out-rebounding the Greyhounds on the defensive end 34-22 while in the process limiting Indianapolis (12-2, 4-2 GLVC) to only eight-second chance points.
"We not only challenged shots but we stayed in and fought for rebounds," Watson said. "Our matchups were really a problem for Indianapolis today."
Leading the Eagles in scoring was Orlando Rutledge, who tallied 19 points while also collecting eight rebounds in helping to pace USI to a 35-27 halftime lead.
"Coach told me to be ready – I think my teammates did a good job of finding me early," Rutledge said. "They are one of the top three teams in the league so we knew we had to bring it today, and once we lock down, we can beat anybody in the nation."
Rutledge was one of four double-digit scorers for the Eagles, joined by senior Kenyon Smith and fellow juniors Aaron Nelson and Taylor Wischmeier, who each collected 10 points apiece.
Wischmeier credits the defensive style thrown at them by Indianapolis for the balanced scoring among the upperclassmen.
"They played a lot of man-to-man tonight and we had not seen much of that in awhile," Wischmeier said. "It's a lot easier to get in a (offensive) flow against a man-to-man defense."
Rutledge said the key for the Eagles' victory was being sound defensively and making it difficult for Indianapolis to get clean looks at the basket.
"They have guys who can shoot once they cross half court," he said. "So our biggest concern was putting a hand in their face, and we did a good job with that."
The men's team took that momentum to Owensboro on Monday, beating Kentucky Wesleyan College (KWC) 72-53 and bringing its GLVC record to 6-1 with a record of 13-2 overall.
Senior center Keith Dewitt had a team-high nine rebounds in the Eagles' final match-up against the Panthers.
The Eagles play again tonight at the University of Wisconsin-Parkside.