Overtime win pushes men's soccer to 3 game win streak
For the first time since 2009, the University of Southern Indiana's men's soccer team has a three-game winning streak.
The Eagles picked up their third win to keep their streak alive in an overtime match against Lewis University on Sunday. The Eagles won the match 3-2, improving their record to 5-3-0 overall and 4-2-0 in the Great Lakes Valley Conference (GLVC).
Lewis University had a 2-1 lead in the second half until USI's senior defender Danny Pratte scored with 57 seconds left in the half, sending the game into overtime.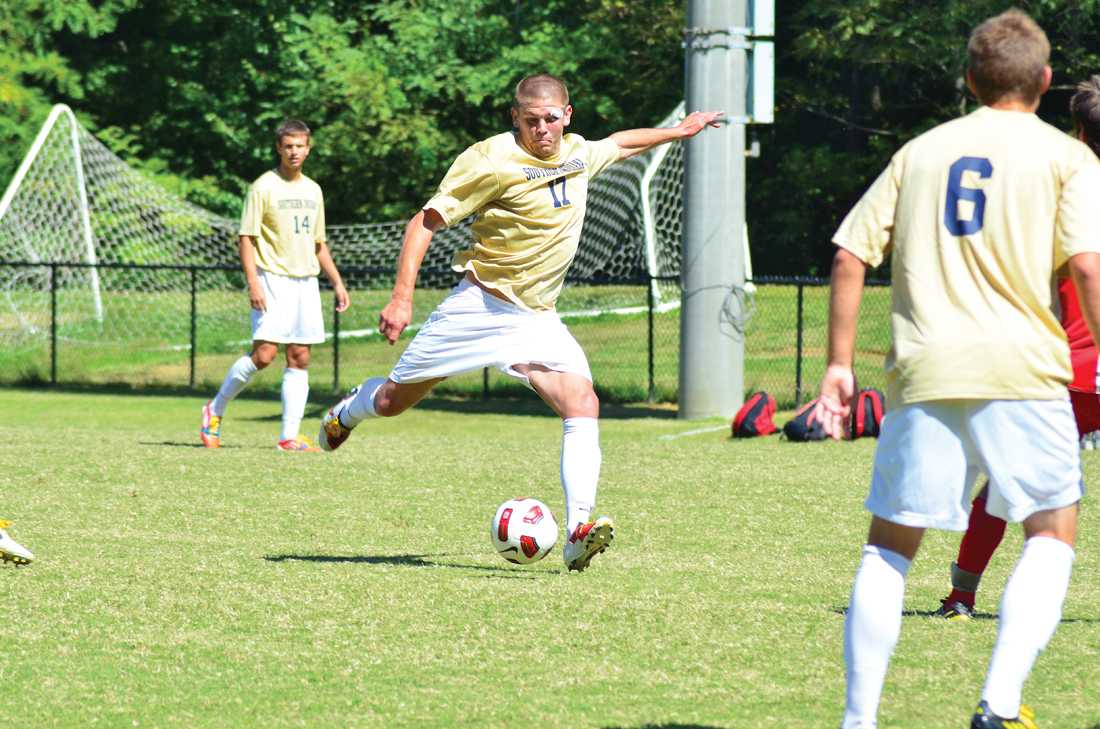 "I saw the ball when it came off the guy's head – I planned on hitting it if it came to me," Pratte said. "When it came to me, I took a touch and let it go. "
Pratte has three goals for the season, two of which were scored in the match against Lewis.
In overtime, senior goalkeeper Ben Dempsey kept the Eagles in the game when he stopped a potential game-winning penalty and another shot off of that rebound.
He finished the day with five saves, including the three in overtime.
Senior midfielder Austin Andrekus scored the game-winning goal off of an assist from senior midfielder Jeffrey McClure.
"It feels good to get the game-winning goal," Andrekus said. "But this was a good team win. It's just icing on the cake to beat a good team."
With the current win streak, the team's confidence is pretty high, he said.
"The team is starting to gel together and everything seems to be coming around," Andrekus said.
When the games is close, team communication is very important on the field, USI head coach Mat Santoro said.
"We have been too quiet as a team in the past," Santoro said. "With our veterans out there, they know what needs to be said to get the job done."
With the Eagles' win over Lewis University, they finished their home stand with a 3-1 record and will be on the road for the next two matches.
"There are no easy games in the GLVC – even the teams that might be struggling, we have to take seriously," Santoro said. "This streak does allow us to have some confidence, but any game (where) we rest on our laurels the opponents will make us pay for it."