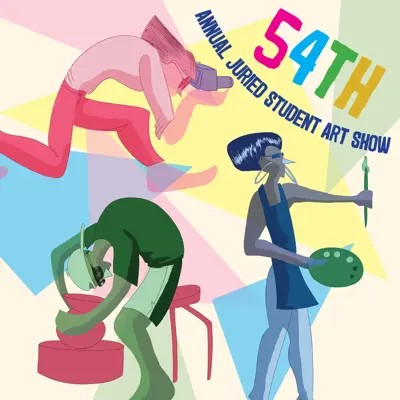 If you were to walk into the Kenneth P. McCutchan Art Center/Pace Galleries between Oct. 30 – Dec. 9, you would be greeted by peculiar paintings, sturdy woodwork, beautiful ceramics and artwork you can't view anywhere else in the world.
The 54th Annual Juried Student Art Exhibition has been presented in the lower level of the Liberal Arts Center since Oct. 30. The art gallery consists of 116 student artworks selected by juror Xinran Hu, tenured associate professor and graphic design area coordinator at Georgia State University.
This art gallery contains varied and unique artwork. The works include a wide variety of striking and unique artwork, including digital illustrations, graphic and website designs, jewelry, photographs, sculptures, various paintings and drawings, videos and work with ceramics, clay, fabric, wood and other various materials. This art gallery also contains work in intaglio, a design engraved into a material, and work in linocut, a type of printmaking. 
While several of these artworks were made completely by the students' choice, many of these artworks were created for classes students were, or are, currently enrolled in. What's great about this art show is that all of the artwork feels like it was made out of passion.
Several artworks chosen for this gallery stood out to me. Many paintings, drawings, photographs, and figurines were memorable. A few of the pieces of art I took note of include "Kiwi," created from clay and glazes, and a drawing titled "The Sensation of Skin," with striking imagery of a woman scratching her skin covered in insects.
Walking through this art gallery, I was continually amazed by the talent and dedication of each student and the amount of detail, thought, time and effort put into every piece of artwork. Every art piece at this exhibition was made with love and care, no matter if it was for a project or just for the chance to be presented at this exhibit.
What I love even more is the amount of recognizable people in this exhibition.
Of course, it's obvious, but sometimes it's hard to keep in mind there is a person behind the art they create, but seeing names of people I recognize attached to a beautiful, thought-provoking or absurd art piece just adds a level of community to the whole exhibit. It's cool knowing the artist behind the art, seeing what they are capable of and showing it to the world.
If you are interested in checking out great artwork, the art gallery will be displayed until Dec. 9 at the Kenneth P. McCutchan Art Center/Pace Galleries. The gallery is open from 10 a.m. – 4 p.m. Monday through Friday and from 1-4 p.m. Sundays. For more information, click here or here.