The McCutchan Art Center hosts the 54th Annual Juried Student Art Exhibition in the lower level of the Liberal Arts Center Oct. 30 – Dec. 8
The art exhibition is open 10 a.m. to 4 p.m. Monday through Friday and open 1-4 p.m. Sundays.
The McCutchan Art Center hosts the Annual Juried Student Art Exhibition every year. The Annual Juried Student Art Exhibition showcases selected artworks from the previous academic year, and an art expert chooses them.
The exhibition features 116 submitted artworks chosen by the juror from 287 student entries. The 2023 juror is Xinran Hu, associate professor of graphic design, from Georgia State University.
Hu will lecture on her design work and creative process, along with insights into the selection process for the exhibition in Kleymeyer Hall 2 p.m. Friday.
According to USI's website, Hu has received awards from the American Institute of Graphic Arts, PRINT magazine and the Australian Graphic Design Association for her design work. Her research in design has been recognized with over 10 awards from USI and GSU.
Ashley Banks, junior studio art and art education major, said this year is her first time applying for the student art show.
"I got two art pieces into the show: one of a collection of colorful ceramic towers entitled 'Glendale Apartments,' and a silver and nickel 'Counting Sheep to Sleep' necklace," Banks said. "I dedicated many hours to making my towers, and all that time got me more attached to clay, the USI Ceramic Center and all my buddies."
Banks said the process of getting artwork in the art exhibition is long. 
"There's the sketching, the building, the finishing and the photographing," she said. "That's not including any of the help from professors, sleepless nights or the freak coincidences that can land you in a show sometimes."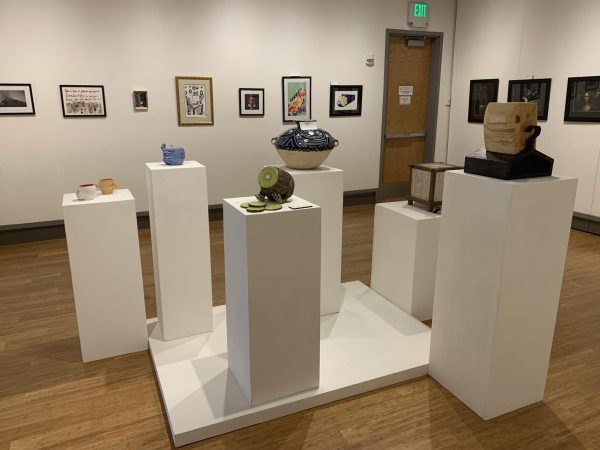 Jade Young, senior graphic design and studio art major, said participating in the show was important because it is her last year at USI.
"I think that my art that got accepted really represents the kind of person that I am, and I'm really lucky that I got so many of my pieces accepted," Young said.
Young said getting accepted meant a lot to her. 
"The process of getting art into the show is nerve-racking because you're just waiting for days on that email saying you got accepted or rejected," Young said. 
The reception and awards ceremony will be 1-4 p.m. Nov. 12. Participating students who submitted art can attend and bring their friends and family.
The 54th Annual Juried Student Art Exhibition will remain open until Dec. 8.