The university and Sodexo have partnered with Grubhub to bring the Kiwibot autonomous delivery service to campus. The campus currently has 15 Kiwibot robots that serve the community in all areas of campus accessible through sidewalks and housing on campus.
According to a USI press release, "Robot operating hours will align with campus dining location hours and are available seven days a week. All Kiwibot orders will be placed in the Grubhub app, and a $3 delivery fee will be applied per order."
To have a Kiwibot deliver a meal, students must request a robot delivery at checkout on the Grubhub app. Once they choose their meal from select dining locations on campus, a campus restaurant employee will then place a meal under the lid of a Kiwibot for delivery.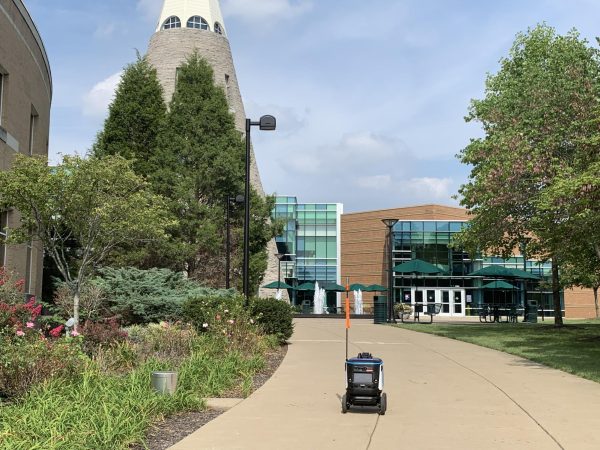 Rebecca Diamond, director of dining services, said the idea to bring Kiwibot to campus came from a Sodexo initiative.
"We've partnered with Grubhub here since 2016 and we knew that Kiwibot was a new partnership with them, so we just inquired with them and it's been probably a year in the making until it finally was ready to roll out," Diamond said.
According to Kiwibot's website, Kiwibot was created in 2017. It began with its first pilot program at the University of California-Berkeley and is currently available at 35 locations worldwide. The robots operate without human input using artificial intelligence and machine learning to travel to assigned destinations on campus to deliver Grubhub orders.
Ashlyn Peach, sophomore dental hygiene major, said she is obsessed with the way Kiwibots look.
"I just like the way they look around campus and they follow people," Peach said.
Katherine Medina-Martinez, sophomore art major, said she thinks they are cute and convenient. 
"A lot of people don't like moving around campus, especially right now since it's really hot," Medina-Martinez said.
Each Kiwibot is given a name and an orange Kiwibot flag attached to them. Their screens display facial expressions.
View this post on Instagram
Diamond said it is too early to tell if the campus will need more robots.
"Our team is still learning how to manage them and the Kiwibots are actually still learning how to maneuver campus so we think that will get better the more they're used and the more they travel around, the better they'll get at it and increase those service times," Diamond said. "So we'll probably reevaluate in six months or so and or leave it at least the academic year and see how they're doing."
The implementation of the Kiwibots is one of many updates to campus dining announced for the fall semester, along with renovations to The Loft, Chick-fil-A's addition of milkshakes, the replacement of MrBeast Burger, the closure of the Sweets Spot Bakery among other changes.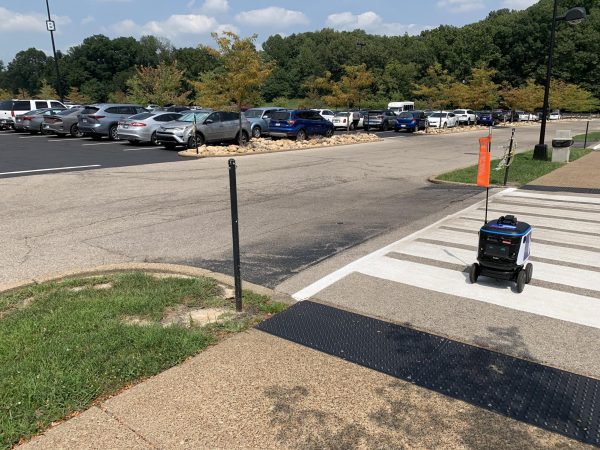 Diamond said she hopes these changes meet students' wishes.
"We met with student groups, a variety of them over the course of last year, and feel like we really tried to listen to what their concerns are or their ideas," Diamond said. "Sometimes they come up with stuff that we didn't think of and then we just have to figure a way to make it happen.".
"It shows that they're hearing the students out, and their opinions on what they think is best or what they prefer," Medina-Martinez said. "I think that's a really good thing and it shows that the school, you know, listens to their students."