My experience at the 'Eras Tour:' A once-in-a-lifetime event
If you have a social media presence, there is a good chance that you have seen something about Taylor Swift's "Eras Tour." From the Ticketmaster catastrophe to the opening night show in Glendale, Arizona, Swift's new tour has been all over the internet.
I have gone to my fair share of concerts, but I have never had an experience as amazing as this one. 
Knowing how packed the stadium would be, my friend and I decided to be at the venue by 1:30 p.m. because the doors opened at 4:30 p.m. I cannot speak on the parking situation because we took an Uber, but they had a quick and effortless drop-off area for anyone who used ride-share apps.
We passed through security without any problems and decided to wait in line to buy merchandise. One of the best decisions made by the crew was to have multiple tables to buy merchandise. There were four just outside the arena, one by each gate. Inside, there were even more. This meant the wait times for merchandise weren't hours long, my wait only being 40 minutes. Compared to other concerts I have been to, this is nothing.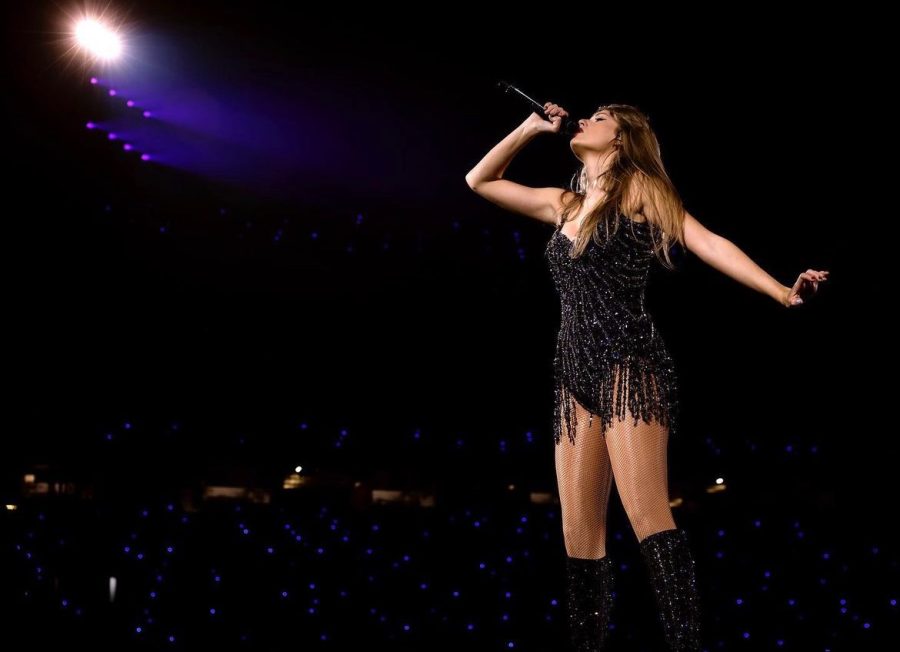 The doors opened right at 4:30 p.m. After my friend and I got drinks and snacks, we found our seats and waited two hours for the opening acts. There was a good amount of signage around the venue, so we found our seats without any problems.
Paramore and Gayle opened for Swift, and their performances were nothing short of pure energy. I had never listened to the band Gayle before, but I still enjoyed jamming out with everyone to their music. 
The only word I have to describe Paramore is "wow." You could tell that they were meant to be on stage. They played the classic "Still Into You," which had everyone jumping up and down. While I would have preferred to have an opener such as Phoebe Bridgers or Gracie Abrams, who will be opening for Swift later in the tour, I cannot complain about Gayle or Paramore.
No one guessed what Swift was going to open with. My friend and I were debating it for three hours until Swift performed, and we weren't even guessing the right album. We were shocked when she opened with "Miss Americana & the Heartbreak Prince" from her album "Lover."
The way Swift organized her tour was to go by "eras," her albums. Swift played six songs from her "Lover" era, including "Cruel Summer," "The Man," "You Need to Calm Down," "Lover" and "The Archer."
After an outfit change (there is one at the end of every era), Swift played three songs from her album, "Fearless." Her most notable songs, "You Belong With Me" and "Love Story," were performed. 
The next era was "evermore," opening with "'tis the damn season." Due to COVID-19, Swift never got to go on tour for her albums "Lover," "evermore" or "folklore," so it makes sense she wanted to spend a good part of her setlist on these albums. Out of Swift's newer albums, "evermore" had the least songs performed, with only five from this era. 
The transition from "evermore" to "reputation" had the crowd screaming. The album "reputation" was the best-performed era by far. After a video of a snake on the big screen, Swift opened the era with "Ready For It?" Swift chose the best four songs off the album to include in this part of her set.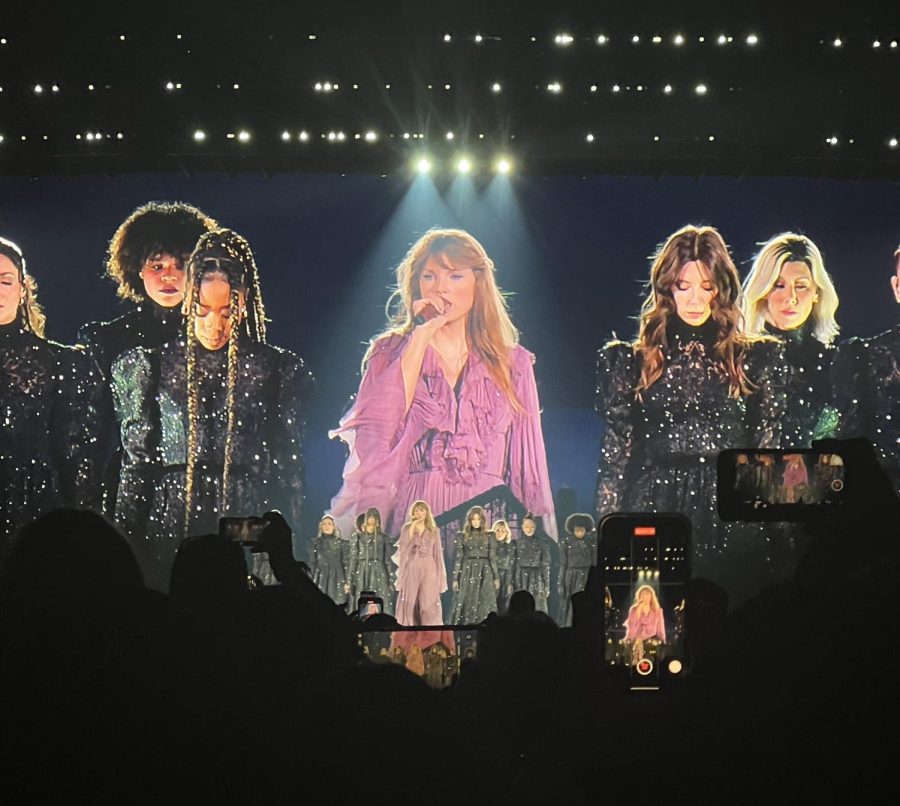 My favorite part of the show was the transition from "Don't Blame Me" to "Look What You Made Me Do." When the former began to end, it blended into the latter. It was a combination of my favorite song, "Don't Blame Me," and one of the best hype songs Swift has made, "Look What You Made Me Do."
The only complaint I have about the show is the lack of songs from "Speak Now." This is my favorite album, yet only "Enchanted" was featured. If only one song was going to be included from this era, I am glad it was "Enchanted." However, there are many songs I would have loved to hear in addition, like "Mine," "Story of Us" and "Long Live." This seems to be the biggest complaint coming from Swifties.
"Red" was another era I was slightly disappointed with but still enjoyed. Swift played some of her most popular songs from the album, such as "22," "We Are Never Ever Getting Back Together" and "I Knew You Were Trouble." While these are her most popular, they are not the best. I would have preferred to hear songs like "The Last Time (feat. Gary Lightbody of Snow Patrol)" or "Sad Beautiful Tragic."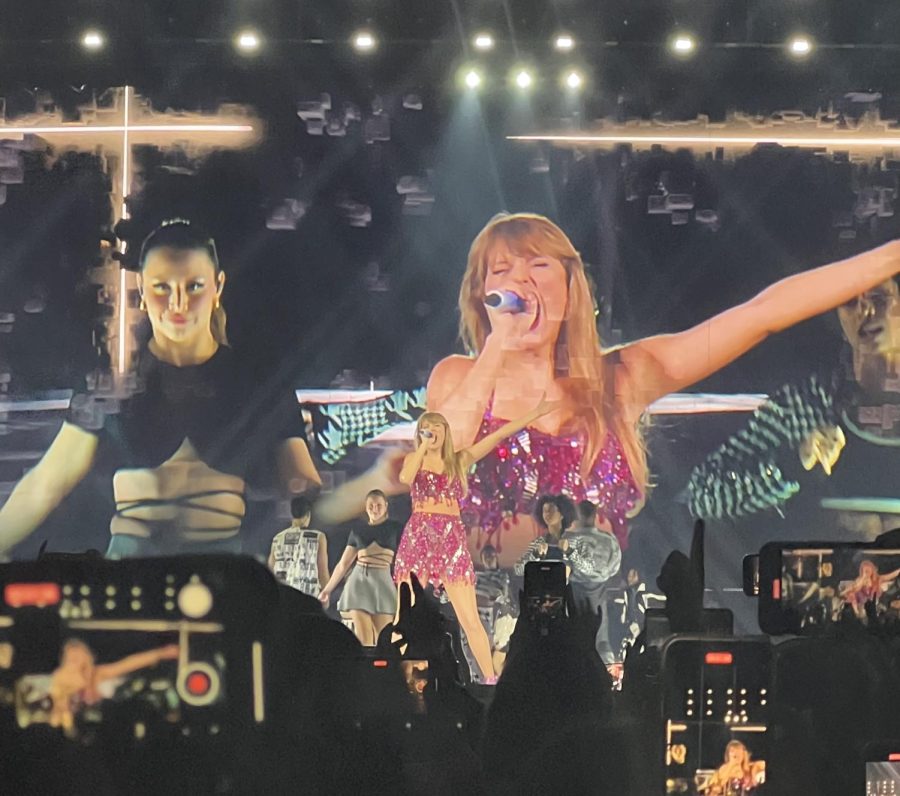 However, Swift did play "All Too Well (10 Minute Version)," which was the redeeming quality for the entire "Red" era.
"Folklore" was one of my favorite eras performance-wise, with a beautiful backdrop and essence that made you feel like you were in a whimsical wonderland. As expected, since "folklore" never got its own tour, Swift played eight songs from the album, including a surprise song. All three songs from the "folklore" love triangle were performed, "betty," "august" and "cardigan." The other songs were "Invisible String," "the last great american dynasty," "illicit affairs" and "my tears ricochet." 
The "folklore" era was my favorite performance at the concert and gave the audience exactly what everyone wanted.
Swift moved on to one of her final eras, "1989." Similar to my feelings about "Red," while "Blank Space" and "Wildest Dreams" are amazing songs and some of her most famous from the "1989" album, I would have rather heard songs like "New Romantics," "Clean" or "I Wish You Would." Nonetheless, this era was so much fun to jam out to in concert.
At the end of the concert, before the final era, Swift played two surprise songs. It is important to note that no surprise song will be played more than once on tour, showing the thought and effort Swift puts into her shows.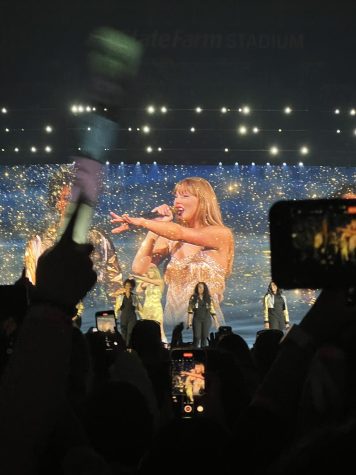 The surprise songs on opening night were "mirrorball," one of my favorite songs, and "Tim McGraw." It was nice for Swift to end with one of her most famous songs from the beginning of her career and one from the present.
Swift ended the show with six songs from her newest album, "Midnights." The final song was "Karma," ending the night with an absolute show-stopper.
My experience after the concert was a nightmare, to put it simply. This was not due to the staff or Swift at all. Rather it was simply the result of unfortunate circumstances. 
After being away from the Airbnb for 10 hours, my phone was sitting at 25%. Considering that, combined, my friend and I had 40% battery and a charger, we decided to walk about a half mile to the ride-share pick-up destination. Very quickly, that turned into a bad decision.
Lyft and Uber canceled rides to the State Farm Stadium, and our phones died. We were in Arizona, across the country, and stranded far from anyone we knew.
The most frustrating part of this all was when I explained our situation to police officers at the venue. They were unwilling to help, suggesting we walk over a mile on the side of an expressway to find a restaurant that may or may not be open at one in the morning.
Thankfully, my friend and I were not the only Swifties in this situation. Many of Swift's fans were stuck at the venue late, and a girl let me use her portable charger since there was no place to plug a charger in.
Eventually, at three in the morning, we made it back to the Airbnb after spending $150 on a taxi to take us 20 minutes from the venue. Despite that stressful and terrifying end to the night, I would do it all over again to see the masterpiece that was the "Eras Tour." 
Since opening night March 17, Swift continues to surprise fans by changing up the set list and bringing special guests on stage. Playing 44 songs over the course of three hours with choreography, outfit changes and no breaks, Swift deserves all the praise she gets for the "Eras Tour" and more.