SpringFest 2023 in the works, featuring a country artist
SpringFest 2023 is in the works and will feature several events, T-shirts and a country artist.
Jenny Garrison, associate director of the Center for Campus Life, is helping plan SpringFest 2023 taking place April 13-15. 
"We're really taking the music piece to heart this year with SpringFest," Garrison said.
She said finding talent has been difficult because everyone has different musical tastes, but she settled on country music. 
"Country music is something that our students ask for quite a bit," Garrison said. "It's very popular in this community."
Elise Ulrich, senior anthropology and Spanish major, said she hopes to see multiple artists perform at the SpringFest 2023. 
"Maybe have different artists. Instead of just having one specific main artist, maybe have a couple of songs from a variety of genres," Ulrich said.
Garrison said there will not be bucket hats like there were in the SpringFest 2022, but there will be T-shirts. 
She said she also hopes to bring more events for the SpringFest 2023 and include more organizations.
"Our hope is to bring some daytime events and some evening events," Garrison said. "Maybe partnering with some other organizations on campus. But music is kind of the theme for this year, and so there'll be some definite music-inspired activities."
The SpringFest 2022 featured pop artist Krigaré and rap artist Kid Quill.
Other events featured last year were mini-golf and a Glowcade including, ping-pong, foosball, darts, giant jenga and mini-golf. The SpringFest 2022 also included Nerdology trivia night, a Panamanian carnival and various outdoor events.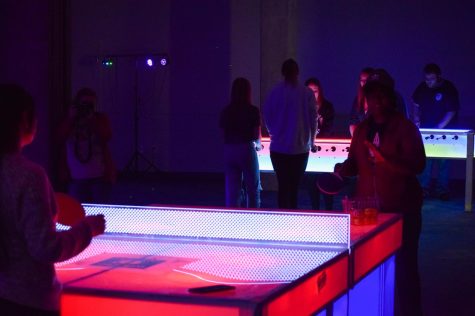 Garrison is temporarily taking over for Nathan Payne, former assistant director of student activities, who helped plan prior SpringFests as Activity Programming Board advisor.
"In the interim since Nathan left at the end of November, I've been covering his responsibilities in addition to my own," Garrison said.
She said there is an active search for Payne's position. She said the deadline to apply for the position was Feb. 6, and she does not think Payne's replacement will be filled before May.
Garrison said she recently hired USI alumna Tobi Clark to assist with Payne's former responsibilities, including SpringFest 2023. 
View this profile on Instagram
Students said what they would like to see in the SpringFest 2023.
"A lot more outdoor activities, since around that time it's gonna feel good outside," said Tamia Smith, junior psychology major.
"There's some students with disabilities, and I guess meeting their needs and to just adjust for them," said Alfredo Sandoval, senior mechanical engineering major. "So having chairs out for students to rest would probably be something simple that can be added."
Ulrich said she has enjoyed SpringFest in the past.
"I've enjoyed all of them, I really like all of the different perspectives everyone brings," Ulrich said. "Everything they've done so far is great. They give everybody the boost that they need, the supplies that they need."