Art Club creates gallery for New Harmony Gallery of Contemporary Art
The Art Club created a gallery titled "Hodge Podge" in the New Harmony Gallery of Contemporary Art.
The gallery has been displayed in the NHGCA since Jan. 31 and will remain available until Feb. 25. The gallery also featured a reception Feb. 4.
Al Sheets, senior art major, worked with the Art Club to create the collection through the James A. Sanders Gallery Fellowship.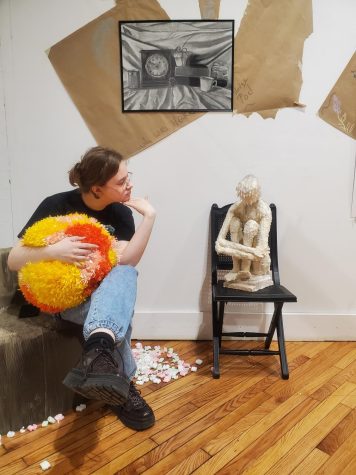 Tonya Lance, senior gallery associate, said the James A. Sanders Gallery Fellowship allows students to work with the NHGCA. 
"We have made our Sanders fellow kind of in charge of the big projects," Lance said. "So they get to experience what it's like to curate an exhibition and plan an exhibition and get really hands-on firsthand experience of what it's like to work in a gallery."
"Hodge Podge" is interactive and allows students to participate by writing or drawing on the walls with provided supplies.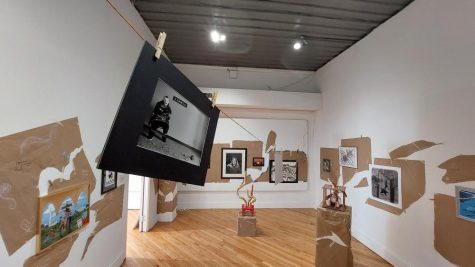 "What they had decided was that the show is going to be called 'Hodge Podge,' which is just specifically highlighting the diversity of the group and how different all the works are," Sheets said.
"So, what I had an idea for is, let's just make this literally a hodgepodge," Sheets said. "Let's just make it look like a mess. Let's hang pieces of paper all over the walls and put tape everywhere and draw everywhere and just hanging the art at whatever height we want it to go and just place it where we think feels right."
Sheets said there were 30 students from a Japanese university who contributed to "Hodge Podge." They said the students wrote in kanji in the gallery. 
"It's getting real. The space is filling up, and that's exactly what my intention was," Sheets said. "Just wherever you have space, just write stuff."
According to the university's event calendar, "New Harmony Gallery of Contemporary Art is dedicated to enhancing the experiences of students through an artist-run exhibition space in the Back Gallery. BG Projects at NHGCA allows students to exhibit, experiment, and/or curate within a working contemporary art gallery setting. Through exhibition and curatorial strategies, students can envision new possibilities for collaborations and their art practice."
"The people that work at the New Harmony Gallery of Contemporary Art, the gallery manager and the other staff, we work with them constantly on different projects there," said Greg Blair, assistant professor of art and design and faculty advisor for Art Club. "But we collaborate and try to work together with them as often as we can."
Blair said the gallery does not have a theme, but it has a focus on contemporary art.
"We've done several collaborative projects with the New Harmony gallery," Blair said. "At the end of last semester, we had a pop-up Christmas sale that students could sell their own artwork, and some of the proceeds went towards fundraising for the Art Club."
"The New Harmony gallery was started as part of historic New Harmony in 1975 and then in 1985, right when USI was changing its name from Indiana University of Evansville, IUSE, to USI is when they took over managing historic New Harmony," Lance said.
Sheets said the biggest takeaway from Hodge Podge is it was a fun show. 
"I think the real treat about this show is that everyone submitted work that's so different," Sheets said. "It spans from, like, really cute, plush, sculpture, to things that have really serious undertones and really powerful, uplifting work and silly and fun work."
Sheets said they would recommend students visit Hodge Podge and other art events.
"Just get in there and check it out," Sheets said. "Honestly, any time there's any kind of arts events on or off campus, just like if you've never been to one, I strongly recommend that you, you know, reach outside your comfort zone and give it a shot."
Sheets said students should go to at least one art event a semester.
"Go to at least one event a semester because you'll be surprised at the kinds of things that might resonate with you that you would never have anticipated before," Sheets said. 
Blair said the gallery brings people from other areas to the Southern Indiana area.
"It just offers a kind of experience that we don't really have anywhere else in the area, to have a gallery like that, that focuses on contemporary art and is bringing artists from Chicago or Atlanta or maybe somewhere farther away, it's somewhat of a rarity in our region," Blair said. 
Blair said it is nice to have a space for students to experience artworks in the area.
"In Southwest Indiana, it's kind of nice to have a space that the students can go and kind of and see these things and experience artworks and artistic things that otherwise might not be able to," Blair said.