Lighting a Tradition Reimagined event returns with no lighting tradition
USI Alumni Association held its Lighting a Tradition Reimagined event Friday in University Center East. The annual Lighting a Tradition event where trees across The Quad were lit with Christmas lights was canceled in 2021 due to the COVID-19 pandemic. Friday was the first time the event was held since 2020. 
Lighting a Tradition Reimagined did not include any tree lighting. A post on the USI Alumni Instagram page said the event was called Lighting a Tradition Reimagined because it would include other festive events, such as an ugly sweater contest, a gingerbread contest, live music, stations featuring various religions and Santa Claus. 
View this post on Instagram
"This is really lighting a tradition reimagined because of certain things that we could no longer do," said Janet Johnson, director of Alumni Engagement. "So, we decided to just reimagine the whole thing and have it indoors."
Students shared mixed feedback on the event.
"I definitely think we should have had Christmas lights and been able to walk around outside," said Arina Hardy, freshman business administration major.
Devin Emmons, junior electrical engineering major, said he would have liked to see the tree-lighting ceremony return and said there could have been more clarity about that on the website.
"I think it's pretty interesting," said Shane Carlisle, junior criminal justice major. "My freshman year, they didn't have live music the last two years because of COVID, and it was outside then, which was pretty nice. It is a better environment inside, I guess, with more hot chocolate and cookies. I'm just hoping they still do the lighting outside. I think it's gonna be a great event as long as they include that part."
There were various events planned for attendees.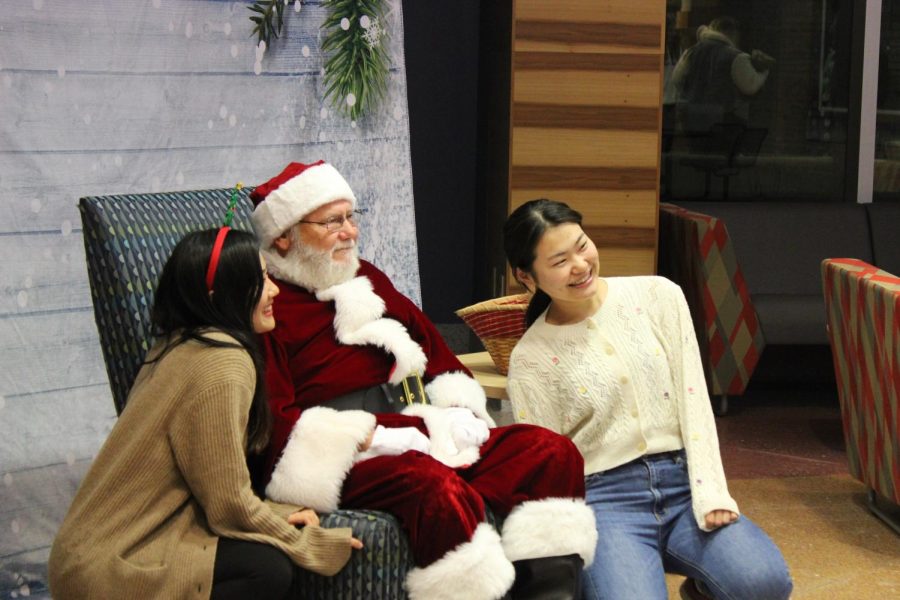 "We have all kinds of festive things," Johnson said. "Folks can come and talk to Santa. They can enjoy the band. There's an ugly sweater contest. There are craft stations where you can put together ornaments. There's one fun station where you can write something you're thankful for on an ornament and hang it on the tree."
In addition to Christmas festivities, there were also stations set up for those who celebrate other holidays.
"SGA is upstairs, and they're doing a gingerbread house competition where the houses are already decorated up," Johnson said. "They are also doing a religious inclusivity fair so folks can learn about different religions and the holidays that they celebrate."
Students and Alumni Association members said they liked the inclusivity at the event. 
"I think that USI is a very inclusive university, and all are welcome," said Becky Glines, member of the USI Alumni Association. "So I think with just ornaments, hot cocoa, cookies and music, I feel like there's no specific way that they're leaning, that everybody could feel included."
"I love it," Emmons said. "I love diversity on campus, it's a great way to get everybody involved and I just appreciate them actually having them be included into this."
"I think it's really good to include everybody, that way it's not focused just towards one group," Hardy said.
Chad Fetscher, former president of the USI alumni council, said everyone is welcome at USI.
"I love USI, USI is my family, it's my home, and I hope that they can grow those roots just like the ones that I've been able to grow for myself," Fetscher said.
Johnson said the event is a good way for people to see others they haven't seen in a long time.
"I hope everybody just comes and has a great time and really can celebrate the holidays, see people maybe they haven't seen for a long time or just meet up with friends and have a really good time," Johnson said.