Outdoor Adventure Program embarks on Fall Break trip to Great Smoky Mountains
The Outdoor Adventure Program took a free three-day camping trip to the Great Smoky Mountains National Park over Fall Break.
The Outdoor Adventure Program is an organization hosted by the Recreational, Fitness and Wellness Center designed for students to be able to explore the outdoors and discover the benefits of being outside.
"The outdoor adventure department is basically just opportunities for students to go explore the outdoor world and gain the experience of actually doing that and the benefits of being able to spend time outside," said Mark Gregory, assistant program director of the Outdoor Adventure Program.
Students who attended the trip said they did a lot of sightseeing and spent time getting to know each other.
"We did a lot of hiking and sightseeing," said Abdulrahman Janah, junior dental hygiene major. "Then, at night, we got around the campfire, talk about each other, get to know each other more and make new friends."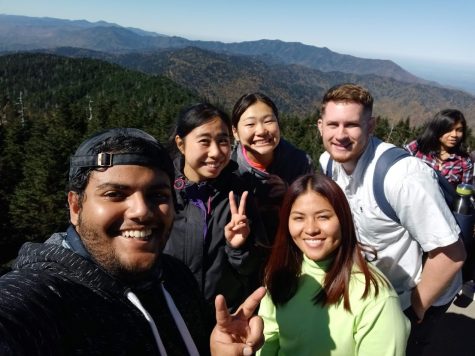 "We mostly just did the hiking, and then we would go back around dinner and hang out and do cards," said Brooke Bassler, junior chemistry major. "We built a campfire, and some people told some stories."
Amelia Cashel-Cordo, senior individual studies major, said during the second night of the trip there was an incident around 3 a.m. where non-USI drunken campers set up next to the USI camping spot got into a fight. She said she felt the safety of the other USI campers was never in jeopardy, even though other campers were loud, the other campers in the mountains never really bothered them.
"So, I knew that all the USI students would be safe," Cashel-Cordo said. "I knew that we had three leaders who had lots of experience with much more severe situations."
Bassler said there was never any major concern from the other campers and some did not even wake up from the commotion.
For situations in which there is no cell service, Gregory said they can use a satellite phone in case they need to get in contact with the outside world.
Janah said the group encountered a bear during one of their hikes and even heard a crying wolf sound far away from their camp. Gregory also said there are precautions put in place for wilderness-related injuries.
"I have a wilderness first responder certification," Gregory said. "I do training every two years specifically to deal with injuries or stuff like that in the backcountry where there's little to no help. We also have other assistant trip leaders then some of them have their wilderness first aid, which is similar, just not quite as intense."
The Outdoor Adventure Program has traveled to various locations for their trips. In Spring 2022, they visited North Carolina. So far this academic year, they have taken a trip whitewater rafting and a trip to Marengo Cave U.S. National Landmark. 
Gregory said he enjoys the outdoors, and he thinks students should want to go on the trips to experience nature. 
"Wilderness therapy is an up-and-coming thing, and it's good for somebody's mental health to be out in nature and just spend time out there instead of always having screens and constant notifications," he said. 
Bassler said, "It gives you a good opportunity to connect with nature and get out of social media. I know a lot of people either struggle with comparing themselves in social media or just like worrying about their social status. It just lets you go have your own time and peace and meditation."
Students said that some of their favorite moments were seeing the sights and nature changing for autumn.
"It was a really beautiful area, you know, it's the Smoky Mountains," Cashel-Cordo said. "All the trees were changing colors, sometimes the wind would blow, and it would be like it was snowing these autumn leaves over the campsite."
"My favorite part of the trip was when we hiked all the way to the very top of the waterfall," Janah said. "We got to go there and see the very beautiful sights. It was an exhausting hike, but it was very much worth it." 
Janah said he really enjoyed every second of the Fall Break trip. 
Aside from the Fall Break camping trip, there are several other trips the Outdoor Adventure Program has planned.
The Outdoor Adventure Program will take a hiking trip to Garden of the Gods Oct. 22. They also have a bouldering competition planned for Oct. 31, and a backpacking trip during Spring Break.
Greogry said there are opportunities for students who may be on a budget. 
"I think the Outdoor Adventure trip is something that everybody should check out," he said. "Almost all of the trips are completely free, and we provide all the gear that you need, besides the clothes that you personally wear, and even then, sometimes, I do let people borrow my own stuff. Don't miss out on the opportunity while you can."