Two colleges begin Fall 2022 with new deans
Two of the four colleges welcomed new deans over Summer 2022. The Romain College of Business selected Sudesh Mujumdar and the College of Liberal Arts selected Del Doughty. 
Provost Mohammed Khayum made the announcement of Mujumdar's position June 16. This comes after the search for a new Romain College of Business dean in Spring 2022.
"Everything is about our students," Mujumdar said. "You guys are why we are here."
Mujumdar is a returning member of the campus community. He worked as an assistant professor of economics in the department of economics and finance from August 2001 to July 2015. During that time, he became chair of the department of economics and marketing from July 2010 to September 2019.
"My son is an Ohio State University sophomore, so I wanted to be closer to him so I can spend more time with him," Mujumdar said. "Driving distance is about four to five hours to get to him, so that was a primary motivator to come back."
"Leading change has been a primary responsibility for Dr. Mujumdar in his role as dean," Khayum said. "His recent accomplishments demonstrate his ability to recognize opportunities for synergy and integration in the strategic positioning of a college of business."
Mujumdar served as dean of the College of Business Administration at Savannah State University in Savannah, Georgia from September 2019 until July 25, 2022. During his time as dean, he led the college in its extension of Association to Advance Collegiate Schools of Business accreditation and secured more than $4 million in grants and private donor funding. He also successfully led the inclusion of Savannah State University as a partnering institution in Bank of America's $1 billion initiative to expand economic opportunity and social justice.
"My passion is helping those seek a higher education," Mujumdar said. "How do we open the highway and make higher education more accessible and still lead to a meaningful life?"
Mujumdar's said his plan is to build "strong connections" with the K-12 school systems. "We want to build bonds with students, so they don't feel overwhelmed and start questioning why they are in college. It's a really great way for everyone to get actively involved in a more systematic way," he said.
"He seemed like a very good guy and very caring towards students," said Sydney Manzini, freshman business administration major. Manzini visited Mujumdar during the "Meet the Dean" event in the Business and Engineering Center Aug. 26. 
Doughty served as dean of the College of Arts, Sciences and Education at Texas A&M University from August 2016 until July 1, 2022. During his time as dean, he won a $185,000 grant from the Texas Pioneer Foundation to create a mentoring program for Black male students. He also started a minor in digital humanities, built a digital humanities lab on campus and launched the "Better East Texas" initiative, a package of academic programs in healthcare and social work.
"I was an English major when I was in college,"  Doughty said. "When I was 18 or 19, all I wanted to do was read and read and read. That was when I started to get exposure to the arts, and it drove me deeper and deeper into the humanities. Ever since then, I guess I would say that it changed my life for the better."
Prior to his time at Texas A&M University, Doughty spent his academic career at Huntington University, serving in a variety of roles from 1996 to 2016, including assistant professor of English, associate professor of English, accreditation liaison officer and self-study coordinator, chair of the division of humane studies and interim vice president for academic affairs.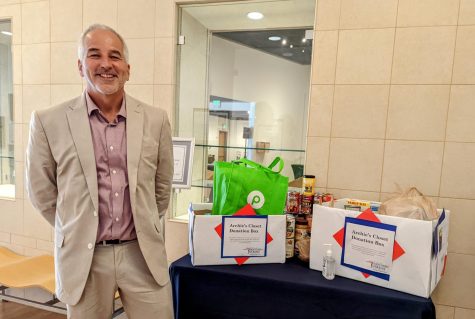 During his time as associate dean at Huntington University, Doughty led the institution's interdisciplinary capstone program, co-founded the honors program and raised over $1 million in grants from the Eli Lilly Foundation.
"I really would say that teaching is one of the best parts of my job, but I get a unique vantage point when I do that as Dean," he said. "I think it's important for me to get out there in the community and share with people what we do in the college and how that impacts our city, our region and how it makes life better."
Khayum made the announcement of Doughty's position April 8. This comes after the College of Liberal Arts held a dean search during Spring 2022. 
"Dr. Doughty has demonstrated success as an academic leader in a range of educational contexts," Khayum said. "His accomplishments reflect a collaborative approach in developing exceptional educational experiences for students, and he is an ardent proponent of the intellectual and professional development of faculty."
"I think it's cool that he's a former English professor," said Casy Pycior, assistant professor of English.
Pycior met with Doughty twice. They met at the beginning of the year meeting and at a meet-and-greet Aug. 20. 
"I haven't interacted with him much, but I'm excited because of his background," Pycior said.
"I'm at this point in my career where coaching is important for me to help people be better at what they do," Doughty said. "I guess that comes from being a teacher for so long."
Doughty said his current plans as dean involve making "plans with other people." 
"I don't want to do it alone," Doughty said. "I have a question that I want to begin with: What would it look like if USI were the best place to study liberal arts in the Midwest? I'm really interested in students' thoughts and faculty's thoughts so we can take the assets that we have, build out and turn it into whatever it is that we think the best place to study looks like."