Asian Student Union hosts their first meeting as an independent organization
The Asian Student Union hosted their first meeting of the 2022-2023 school year as an independent organization Monday. Sabrina Yamashita, president of ASU, led the groups first "Emochi Chat" meeting by directing conversations focused on "embracing the culture" with the group members.
At the meeting, there was an arrangement of food and drinks representative of Asian cultures. Sodexo delivered Ramune, a Japanese soda, vegetable fried rice and mochi, an ice cream with a rice paste.
Yamashita and César Berríos, assistant director of the Multicultural Center, created ASU during the 2021-2022 academic year when it was a program directed through the Multicultural Center.
Following the tragic global Asian threats and racism in Summer 2021, President Ronald Rochon brought together Asian students and faculty members to "have an intentional, honest conversation about how students were doing," Berríos said.
Yamashita and Berríos met through the meeting and decided to form a collaboration through the Multicultural Center. Yamashita wanted to see more Asian-focused events and programs, and Berríos wanted to work with her and help organize the events.
Yamashita came up with the name "Emochi Chats" when she visited a restaurant featuring a dish called "emochi" with an emoticon alongside it. She said she thought the emoticon paired with the title "emochi" was clever, and it inspired the name of the meetings, along with the word "chat," since "that's basically what we do at the meetings."
Berrios said before there was an Asian Student Union, there was an Asian Student Association. Several years ago and before the COVID-19 pandemic, a graduate student created the ASA. However, once he graduated from the university, the organization did not continue. Yamashita and Berríos decided to pick up where the ASA left off by reestablishing ASA as ASU when they were forming an Asian organization.
After Yamashita and Berríos created ASU, they hosted three meetings during the 2021-2022 school year. With the high attendance during the meetings, the organization took off. 
ASU is now an individual organization under the umbrella of the Multicultural Center.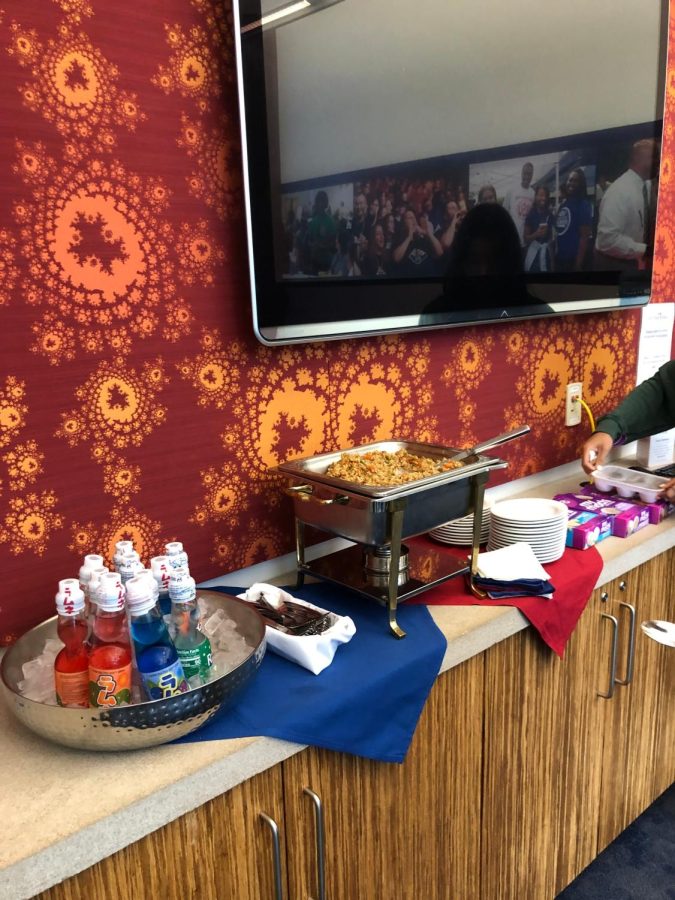 Yamashita and Berríos said they want students to feel like they have a safe place to express themselves.
"It's trying to create a platform where it's safe for people of Asian descent, or people interested in Asian culture, to come and discuss, educate and learn about Asian cultures," Yamashita said.
"I hope students in the organization get a bigger community, because whenever I first came here, I didn't notice as many Asian students; there wasn't any centeredness or focus in a club. Those have only recently come to light."
"I really want students to be open to experiencing something new. Although this organization is focused around the Asian community, it's really an opportunity for all students to come together and learn from each other," Berríos said.
Members of ASU also want students to feel safe attending the events.
"I think everyone should know this is such a safe place, and you are able to express yourself. We're open to many questions, or if you want to teach other people about your culture," said Kyla Tecson, freshman business administration major. 
Berrios said along with creating conversations regarding Asian cultures, ASU is also about providing equity, diversion and inclusion
"We talk about diversity, but that is only one piece. You have the equity piece, and you have the inclusion piece. That inclusion piece is making sure that we know these students are on campus, and that they're being included in everything we have on our campus; making sure they have the space they need to have these intentional conversations," he said.
Berrios said he wants students to know everyone is welcome to attend ASU meetings.
"I think sometimes many students think that since an organization has a certain race or ethnicity tied to the title, if they don't belong or associate with that race or ethnicity, they can't go," he said. "That's not the case. These are the types of events that are open for all students, so that way they can learn more about that community."