Titus Winders: For the love of running
A runner's heart races as his feet propel him forward. He remembers that a year ago he was ranked 162nd. He looks ahead and sees another runner 50 meters ahead, and his feet start guiding him faster and faster. 
The crowd roars as the USI junior passes the runner in the last 600 meters and crosses the finish line.
The hard work and accomplishments all seemed worth it at that moment.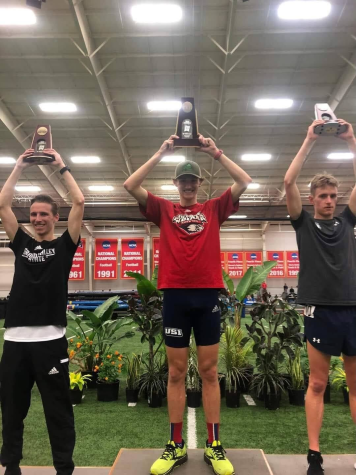 Titus Winders, junior sports management major, became the first student to win two NCAA Division II Championships in an indoor track and field season. He won the 5000 meter race March 11 and the 3000 meter race March 12.
Winders grew up in Henry County, Tennessee with a family of runners. His mom and dad were avid runners who had three boys that ended up with running careers at USI: Javan, Titus and Silas. His mother was so dedicated to running that she even ran the day Javan was born. Running would be the outlet the Winders family needed for their future and happiness.
"The reason both of my parents went to college was to run," Winders said. "My dad more than likely wouldn't have gone to college if it wasn't for running. It's as simple as running makes me happy. I love being around good people in a good mood and always want the best for each other."
His family reeled him into the "runner's high" around the age of three or four. He ran at events until he was able to run in school.
In 2013, Winders won the Boys' Two-Mile Run State Championship with a time of 11:10.85, beating the runner-up by twelve seconds.
Winders' running career took a leap during his junior year at Henry County High School. He placed 35th in the Foot Locker National with a time of 16:36.01 in the 5000-meter race. Nearly two weeks later, Winders placed first in the 3200-meter race at the HOKA One Nationals, finishing at 9:01.6.
Winders finished his high school career being a top recruit in the country with his younger brother, Silas. The duo finished in first and second at the 2018 Cross Country State Finals, as well as the 3200-meter track event the same year. 
Winders decided to continue his running career with the Screagles, following his older brother, Javan, to join the running history at USI.
"USI goes to nationals every year and does well," Winders said. "Following my brother, Javan, and Coach Hillyard were huge reasons though. I get to be on the same team with my brother again. It's even better that Silas followed."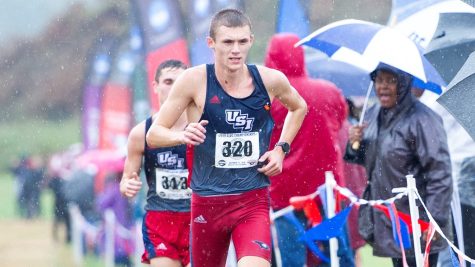 Winders held his top prospect spot from high school in his transition to college until COVID-19 hit.
"He had a rocky year because of COVID, but who didn't?" said Jon Mark Hall, director of athletics. "He bounced back confident, not cocky. It's exciting to see his aggressiveness to run those two races on back-to-back days."
The indoor track and field teams were met with cancellations at the 2020 Division II Nationals due to COVID.
"Since COVID happened, my mindset kind of changed," Winders said. "I didn't have as much self-confidence."
Winders ranked 162nd for the 2021 year. He said he was looking to not run poorly and instead have the mindset to do well and run fast. Winders said he thought, "Let's just not have a bad day."
After a long season affected by COVID cancellations, Winders decided it was time to turn things around.
"Okay. Never again. Even on my worst day, I shouldn't be running that bad," Winders said.
Winders and Coach Mike Hillyard had a conversation discussing what needed to be changed. They determined it all came down to (Winders) mindset. "We decided to just kill it. Let's knock it out of the park and win both," Winders said.
On March 11, Winders set for the 5000-meter NCAA Division II Championship race. His plan for the championships was to conserve energy and relax. He said the 5000-meter race was his favorite because he has plenty of time to make up for any mistake he made in the beginning. The race went exactly as planned: conserved and relaxed until the end neared. As Winders crossed another turn, he jumped the gun and started his rush to pass others to the finish line early.
Winders dominated his opponents and set an NCAA Indoor Championship time of 13:38.92. The runner that placed second would finish just under six seconds behind.
Succeeding his first National Championship, Winders would still have to prepare for the next day with stacked competition. 
On March 12, Winders continued his championship run with the 3000-meter race. Winders faced the Division II 3000-meter record holder from Lee University, Christian Noble.
"Anyone in those events could have won," Winders said. "I was obviously aware he was in the race, but you try to not worry about anyone."
Ryan Riddle, runner from Missouri Southern University, would move ahead nearly 50 meters for a majority of the race, looking like he would take the title. Winders said it really threw him off that someone would do that.
"It was kind of a whole collective (thought) that there would be a time that we could all go get him," Winders said. "The big thing that I've worked on this semester is to focus on what I can control."
Winders and the pack of runners caught up to Riddle around the 7:34 mark with a huge leap starting at the final turns. The crowd erupted as Riddle fell to seventh and Winders claimed his second national title with a time of 7:57.01.
Winders said, "If there were two or three guys up there, I would have been up there with him (Riddle). It becomes a hard race running alone without guys to draft off of, but if there were more guys there, I would have been too. I feel like my best races come from when I'm relaxed and am ready to make moves at the end."
Riddle was laid out on the track as everyone was catching their breath. In a show of sportsmanship, Winders walked over to help Riddle up. 
"One reason I think running is the best sport is because there's no hatred. People get pretty vicious about their competitors in other sports, but I've never experienced that with running," Winders said. "After the race, I didn't think anything of it. (Riddle) was just a guy who needed help getting up and so I helped him. He gave it his all and somebody should show him that respect."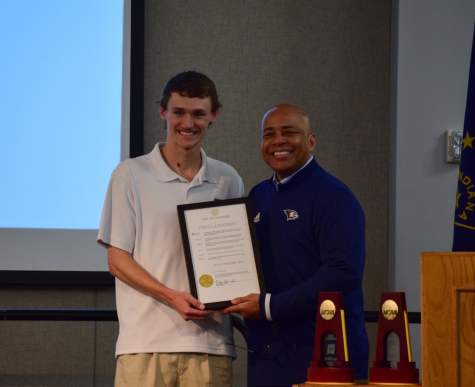 Winders would receive love from the Evansville community, including Mayor Lloyd Winnecke. Winnecke declared March 18 "Titus Winders Day" as the university community celebrated Winders in Carter Hall. 
"That was probably the most unexpected part of it all," Winders said. "It's a really cool honor, and I just thought it was crazy."
Winders had a dominant indoor season, winning and eventually setting university record times at the Indoor Championships. Over the course of the indoor season, he received co-track "Athlete of the Year", three Men's Track Athlete of the Week awards, his third GLVC championship, three-time all-GLVC and to top it off, two indoor NCAA Division II National Championships. 
After he graduates college, Winders would like to pursue running professionally. Winders said he would not be here without the support he has gotten over the years.
"There's a lot of people who helped me get here," Winders said. "They're not paid for me, they're not paid to make me better, but they still care."