USI Theatre's "Stop Kiss" is an unforgettable performance
How does a moment change your life? How can a seemingly harmless decision cause a chain of cruelty? What happens when life as you know it comes to a dead stop? These are the questions "Stop Kiss" prompts audiences to consider.
I went to the Friday showing of USI Theatre's "Stop Kiss" not really knowing what to expect. For one, I had never heard of "Stop Kiss." For another, I would say I'm not as fond of plays as I am of musicals because they tend to hold my attention less.
This proved not to be a problem for "Stop Kiss," which held my breathless, laughing, teary-eyed attention to the very end. It was near impossible to look away from the stage as a result of the powerful acting, captivating story and impressive set and prop design. 
"Stop Kiss" opens in 1988 with main character Callie, (Evelyn Pigman) welcoming St. Louis native Sara (Shayna Survil) into her New York apartment. Sara has just moved to teach third graders in the Bronx, but is unable to have a cat in her new apartment. Callie kindly agrees to foster the cat for the time being – and thus begins a quirky friendship.
The timeline of the play suddenly flies much closer to present day, after Sara and Callie have been developing a bond for some time. Callie is being interviewed by a detective in a hospital, where Sara has fallen into comatose after a brutal attack by a stranger on the street.
From that point forward, the timeline sways between past and present. An emotional roller coaster ensues due to the juxtaposition between the scenes of a blossoming healthy and understanding relationship between the two girls and the heartbreaking consequences of the assault.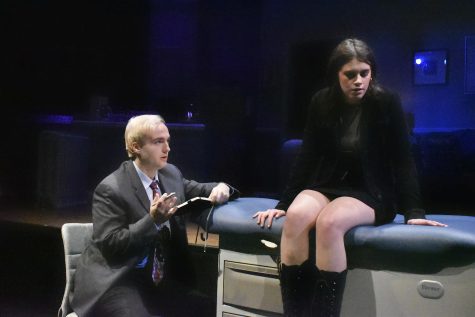 I was given the privilege of taking a behind the scenes look at USI's last production of a Christmas Carol, and the props for that show with their impressive mechanical elements really impressed me.
So, of course, I was blown away by the set design and prop production of "Stop Kiss." Of all of the USI Theatre productions I've seen over the past couple of years, this set design has been my absolute favorite by far, and not just because of the self-built rotating stage. Yes, the stage spun, and theater students helped build the motorized turntable that made it happen.
Beyond that, I was extremely impressed by the design of the main locations depicted on stage: Callie's apartment and the hospital room. The space seemed so believable, appearing more like a chunk of a room taken out of an actual home or hospital rather than a few props placed on a stage.
The set kept me constantly enraptured, from the trim on the walls, to the lived-in feel of the apartment, to the sterile nature of the hospital room, to the plethora of appliances and to the television and radios perfectly timed to play music and shows after scene changes. 
Evelyn Pigman and Shayna Survil have such distinct styles of acting, but they still had great chemistry on stage. Their styles reflected the nature of their characters. Survil's overemphasized expressions and mannerisms gave her character a bright, quirky feel, whereas Pigman's were more natural and reserved, adding to the more serious and hesitant feel of her character.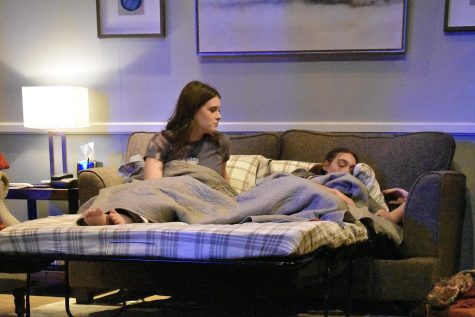 I also want to applaud Survil's range when it comes to acting. Based on her extremely bubbly performance throughout the beginning, I was pleasantly surprised to see her ability to take on the challenge of playing Sara post-attack. Her performance was heart-wrenching and realistic. 
The cast conveyed such powerful emotions and gave such a raw performance that some parts of the play made me feel genuinely uncomfortable, to the point of trying not to cringe back into my seat or let tears spill over. 
Beyond the incredible acting and set production, the story told in this play was a hard one to swallow. Something simple and innocent, like a kiss, can have more impact on your life than you know. When life changes in ways we could never anticipate, the play delivers the message that we should keep moving forward by using the hurdle as leverage rather than allowing it to stop you. 
Harassment on the basis of sexual orientation isn't something that no longer exists. I've seen it and experienced it on our own campus. For that reason I am appreciative that the USI Theatre group does not shy away from heavier and sensitive productions. 
In all, "Stop Kiss" has been my personal favorite USI Theatre performance. I would encourage anyone to see the remaining shows on Saturday the 19th at 7pm or Sunday the 20th at 2pm. Tickets are free to students arriving within the hour before the show.
Tickets for USI Theatre's last performance of the season, William Shakespeare's "Twelfth Night" are available now on their website. The show will run from April 21 through the 24th.