Aquatic Center staff take on uncharted waters with new facility
The Aquatic Center is open with varying daily hours. The campus community celebrated the completion of the Aquatic Center on Sept. 16, 2021. Instead of a grand opening, university athletics has opted to take things slow. 
Jon Mark Hall, the director of athletics, said operating a pool facility requires lifeguards, proper COVID-19 regulations and regular maintenance. The athletic department is taking time to work out these issues and prepare for regularly scheduled use.  
"We just wanted to take it a little bit slow at first," Hall said. "Those guards under Coach Kainer's leadership are kind of getting settled in." 
He said however more lifeguards are needed. 
"We would encourage anybody on campus that has a lifeguard certification to reach out to us," Hall said.
Once there are more lifeguards available, the Aquatic Center will be able to maintain more frequent and regular hours. As of now, the center's hours vary day to day but will be posted weekly on the university's athletic facilities webpage. 
Although masks cannot be worn while swimming, Hall asks students, faculty and staff to wear their masks throughout the facility unless in the pool. As of Nov. 9, 2021, an official occupancy limit has not been established, but visitors are encouraged to be respectful of COVID-19 precautions.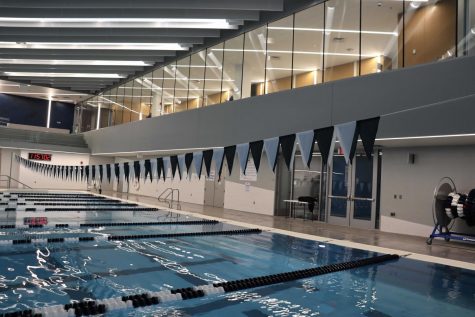 Aside from open swims, Hall said the center is being used by Mater Dei High School and Memorial High School. Their swim teams have been practicing at the facility and will begin competing in December. 
"We'd like to see high school dual meets every so often here," Hall said. "Just to try to make sure that we get some prospective students on our campus and seeing our facilities."  
Cameron Kainer, the head diving and swim coach, said he began recruiting for the Fall 2022 season and has already received verbal commitments from prospective students. He also said the campus community could potentially expect a first home meet in September or October 2022.  
"I think it brings a lot of different opportunities for our team," Kainer said.  "Specifically, being able to compete in one of the top Division II conferences in the country."
Although he said he is excited about the upcoming season, Kainer is looking forward to the other opportunities the center offers. 
"I think it gives us an opportunity to come in and have a different tool to exercise, but also rest and recover," Kainer said.
Kainer said he has been working with the Kinesiology Department on forming a swim class and is in the process of creating therapy and rehab programs for other athletes. Kainer also said water basketball, water volleyball and standup paddle boarding are just a few activities students, faculty and staff can look forward to in the coming year.