Volleyball team shuts down opponents in home invitational
The university women's volleyball team sweeps their opponents in Fall 2021 home invitational. 
The volleyball team won four games Thursday through Saturday winning one game on Thursday, two games on Friday and one game on Saturday. 
The Screaming Eagles swept Wayne State University on Saturday to complete the invitational dominance. 
The team came out early and set the tone for the entire game as they won the first set 25-12. By the end, they defeated their opponent 3-0. 
Leah Anderson, sophomore outside hitter, led the way in kills with 15 kills in Saturday's game. The eagles had four aces, and Casey Cepicky, senior setter, had 36 assists in the game.
The team came into Saturday with a .714 winning percentage and a record of 5-2. The volleyball team only lost one set in the invitational against the University of Missouri-St. Louis on Friday.
Katherine Koch, sophomore outside hitter/setter, made history Friday with the first university triple-double since 2002. 
"It's a really good feeling because it's a team thing," said Koch. "I couldn't do what I did without my team. I just love them so much."
Koch said she did not know she made history on Friday until her mom told her. 
Koch was not the only player that had personal achievements on Friday.
Sidney Hegg, senior middle-blocker, had a career-high 10 blocks against the University of Missouri-St. Louis. 
"This is my senior year, so I don't want to do anything but get better," Hegg said. 
Hegg said the team brings the competitive energy from the practices to the court in games. 
Randi Raff, volleyball head coach, said the theme of the 2021 season is "small victories every day."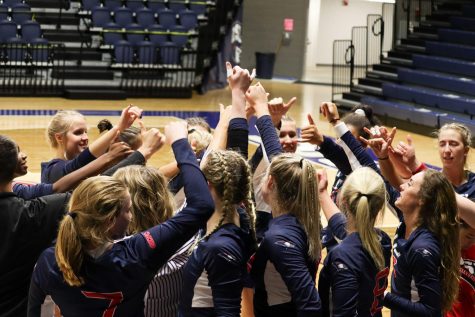 "Reminding our players on a day to day, week to week basis that we have our own standards, we have our own goals, we have our own thing that we do," said Raff. "And that's who we compete against every day in practice"
The team's theme "small victories every day" corresponds to the hashtag #SVE on the team's warm-up shirts. In addition, on the back of the warm-up shirt is a target with the corresponding player's number in the center of the target.
"Everyone is gunning for us. I think returning most of our roster from the spring has us in a position where people kind of know what we're about," Raff said. "We chose to embrace that a little."
The university women's volleyball team record is 6-2 going into the Great Valley Lakes Conference. The Screaming Eagles are on a six-game winning streak.
 The university women's volleyball team starts their conference schedule at 7 p.m. Thursday in the Screaming Eagles Arena against Maryville University.