Women's soccer team kicks off season with victory
Women's soccer team wins the season opener at home. 
The soccer team defeated Trevecca Nazarene University 2-0 in the season-opening game Thursday evening. 
Brenna Frommelt, freshman forward and midfielder, scored the first goal of the season. Frommelt came off the bench in the first half and had her first goal as a Screaming Eagle. 
The women's soccer team has 26 freshmen. This represents around 70% of their roster. 
Eric Shoenstein, the women's soccer head coach, said they have a lot of veterans and young kids. 
"It's great that you've got some young kids that you can build off of," said Shoenstein. "Saying that you know they've got to grow up pretty quick and be confident."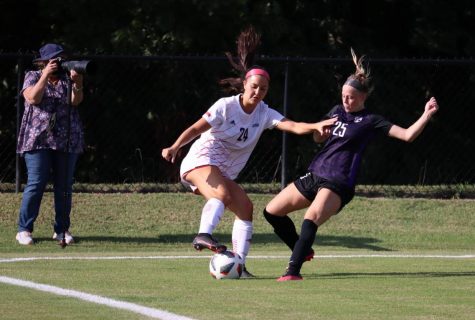 Shoenstein said the coaching staff preaches to the team to be confident no matter their year.  
The women's soccer team played aggressively both on defense and offense. They took twenty shots with ten shots on the goal compared to the opponent's six shots with three shots on the goal. 
"The girls gave a tremendous effort today," said Shoenstein. "All of their hard work in preseason came through today, so I'm very proud of them." 
Shoenstein said it was hectic preparing for the season, and they are pleased with the results. He said the soccer team worked their tail off to defeat their quality regional opponent, Trevecca Nazarene University. 
"Experience and confidence are the two biggest things we can gain out of today," said Shoenstein. 
Jill Ditusa, sophomore midfielder, scored the second goal of the game in the second half. The Eagles held a 2-0 lead for the remainder of the game. 
"Getting that first game out of the way is huge," said Shoenstein. 
Shoenstein said it's good for the team to get nonconference experience against quality teams before playing in the Great Valley Lake Conference.
The university women's soccer team takes on Walsh University at 12 p.m. Sunday at home.