Students make history in hybrid ceramics class
On the outskirts of campus, nearing the end of University Boulevard lies the lonesome Dowhie Ceramics Center where Al Holen seemingly did the impossible. 
Last semester Holen, associate professor of ceramics, taught a class with 18 rotating students, half online, half in person. 
Teaching hybrid is uncharted territory for many teachers, but for Holen, it's a little different. Working with clay is a tactile experience. In order to teach the class in a hybrid format, she really had to get her hands dirty. 
"It's hard on both the students and the teachers," Holen said. "I had a couple of students who were really great, they would follow me around with a laptop moving from place to place."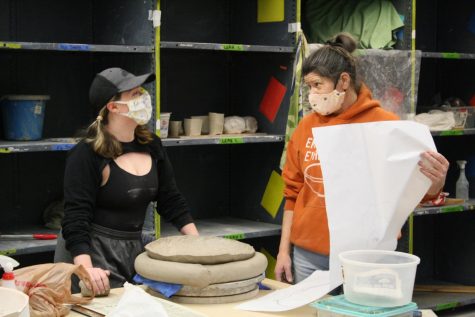 Holen says there were technical issues on occasion, she recalls one instance where she gave an intense demonstration with the clay only to find that she accidentally left out the virtual half of the class. 
Holen saw it as a humorous learning moment and had the chance to record her demonstrations in case someone missed out again. 
The class was a new experience for many of the students.    
"I felt like ceramics was a way for me to get away from my typical routine," Said Brandon Turner, a junior pre-dentistry major. 
Turner says the hybrid format was beneficial in a way, saying  Holen was able to work more one-on-one with her students as a result of the class size shrinking. 
Despite not being an art major, Turner admits that he learned a lot from attending the course.
"I learned that art isn't only about beautiful pieces of work of well-known artists, it can be anything you want it to be," Turner said. "Ceramics gave me a chance to take a risk and create fun artwork that was meaningful to me."
Psychology major Patricia Brenner says the studio class was a difficult adjustment at first, but later appreciated the process by using it to destress. 
"If I had a rough day in classes or had a lot of homework that fried my brain I would go to the studio and I would work," Brenner said. "It felt good to end a long day in the studio."
Al Holen took the time to branch out creatively as well, adding a new assignment to the course. 
If done properly, ceramics can survive over 30,000 years, according to Holen. In many cases, the ceramics and pottery are all that archeologists find of a previous civilization. 
With all the news of pandemics, elections, and social movements that occurred over the past year, Holen thought it fitting to leave future archeologists a few things to find.
"There's a wonderful history with ceramics," said Holen, "We thought we should really do some pots so that when the archaeologists excavate Evansville, they can say these people really understood their history."
Students were assigned to make a historically accurate piece of stoneware with a 2020 twist. The piece had to be something they wanted to tell future generations about today. Their work is now on display in The Art Center's student gallery. 
Some pieces are obvious with their meanings. One titled "A Good Ass Kicking" by Carly Cato is done in the style of Ancient Greece and depicts a donkey kicking an elephant.
Other pieces are more blatant. Brandon Turner's piece "Towards Better Days" has the words "2020 Sucks" plainly carved across its front. 
To professor Al Holen, ceramics is about more than making mugs or glazing vases. Ceramics is about a community that she wants to share with her students. 
"The pottery world is generous and kind," She said. "I encourage everybody to support your local Potter, as the bumper stickers say."