Former student paints for the cats
River Kitty Cat Cafe has a fresh coat of paint.
The cafe, located on Main Street, is home to drinks, snacks and cats up for adoption from the Vanderburgh Humane Society and it now has a new mural right at the entrance painted by a former USI student.
The mural depicts a group of cats floating down a river in a colorful scene. Jenna Sharp, who graduated in 2019 with a degree in art, painted the mural as a part of her Endeavor Award grant from the university.
She used the money from the grant to travel to Denver, Colorado last August to shadow a mural artist before she painted the mural for the cafe. Sharp, who likes to do live painting at musical festivals, said she likes to paint murals because she loves the public aspect of it.
"I was just trying to find a way to bridge what I like doing and a career type option," Sharp said. "And murals were kind of that bridge or the next step."
Sharp was originally hired by the former owners of the cafe before it was taken over by the Vanderburgh Humane Society. She said it was hard to find a public place to paint a mural in Evansville, but a professor of hers suggested the cafe.
The Vanderburgh Humane Society was still on board to have her paint the mural, so she went into the design process. Sharp sent her portfolio and they wanted her to do an image similar to something she had drawn years ago with some tweaks to fit it in with the cafe.
"It's a really happy, positive design, and I think that they just wanted something that was inviting, as well as it has aspects of the cafe," she said.
Sharp made art for the cafe before under the previous owners. She said she likes cats and it was nice to be doing something for a nonprofit that can draw people to their cause.
Sharp painted the mural over the course of eight days. She ended up painting by herself since the cafe was already closed due to COVID-19. She said it kind of sucked for the cafe to have a brand new mural and be closed, but people can still see it from the outside.
Sharp, who is moving away from Evansville, said it's nice she got to leave a mark on the city before she left. 
"I think that Evansville needs more public art, which is why, you know, I started this whole mural process in the first place," she said.
Sharp said studies show how public art has a positive impact on communities and Evansville doesn't have a lot of public art pieces. She said funding helps, but mostly, people just need to want a mural. 
Sharp said even though she offered to do the mural for free, it was hard to find a business that wanted to work with her more psychedelic art style. She said her piece at the cafe is more toned down from her typical work.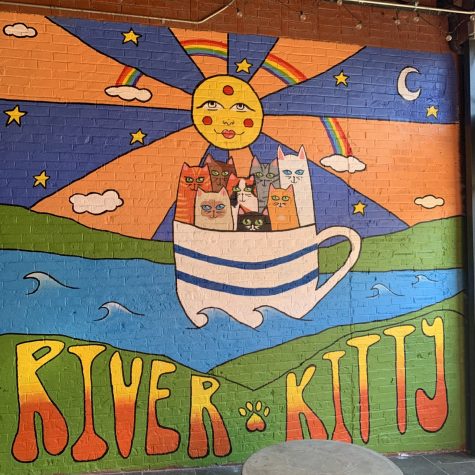 Amanda Coburn, the development coordinator for the Vanderburgh County Humane Society, said the new mural is gorgeous, unique and will be a tourist destination for years. She said Sharp did a great job conceptualizing what they wanted for the cafe. 
"I think it'll put us on the map," Coburn said.  "It'll be recognizable. Any public art that you have installed always enriches the community and quality of life."
She said whenever the cafe opens will depend on how long the governor decides to keep the state closed.
Sharp said she hopes businesses get inspired seeing her work and want to bring more public art to the community.
"I do think that there is a benefit in bringing your talents to the public and sharing it with the community," she said. "I just think that it helps bring people together."