Watson retires as men's head basketball coach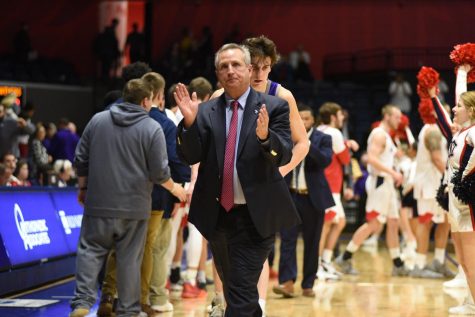 Men's head basketball coach Rodney Watson is retiring, the university announced Monday.
Watson, USI's all time winningest head coach, said via video message the timing was perfect for "a new voice, new style and new energy."
The university will begin a national search to fill the position.
Watson became the university's ninth men's basketball coach in the 2009-2010 season. He has led the Eagles to seven NCAA Division II tournament appearances including ones in 2011, 2012, 2013, 2014, 2017, 2019 and 2020 along with two GLVC championships in 2012 and 2014.
Under Watson, the program has produced seven All-Americans and 15 All-GLVC honorees.
"I was hopeful that Rodney would keep coaching for a while, but I truly respect his decision to move onto the next phase of his life," Athletic Director John Mark Hall said in a press release. "I will never be able to express to him my true appreciation for how he has led our men's basketball student athletes. The young men he has taught have been guided by a person with great integrity, humility and grace."
USI was 251-82 during Watson's tenure. The Eagles compiled a winning record of 142-60.
The team finished 22-8 this season, including 13-7 in GLVC play. USI reached the semifinals of the GLVC tournament and was scheduled to appear in NCAA Midwest Regional before it was cancelled amidst the COVID-19 pandemic.