University moves to online classes for remainder of semester, shuts down housing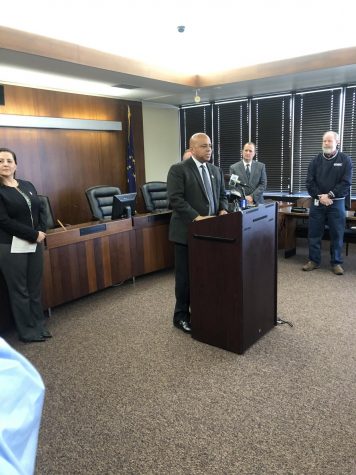 President Ron Rochon announced today the university will move to online-only classes for the remainder of the semester because of COVID-19.
Campus, along with all other university owned property, will be closed to all non-essential personnel effective immediately until April 6. 
All on-campus housing will close for the rest of the semester as students are asked to gather all personal belongings and move out by Sunday. Students vacating housing will be reimbursed at a later date and meal plans will be converted to Munch Money, which they will have until the end of the fall 2020 semester to use.
Rochon said the university will work closely with international students, allowing them to remain on-campus and provide essential services to them.
"This is not convenient for anyone, but the sooner we provide that distancing, the safer we are going to be as a campus," he said. 
All university employees, both salaried and hourly, will receive their normal rate of pay through April 6. Rochon said employees are required to work remotely if possible.
Rochon said student workers must contact their supervisor to determine remote working schedules.
Commencement is postponed until further notice. Rochon said there is no timetable on when a rescheduled date will be announced. All degrees will be conferred as scheduled.
"Once we get some sense of normalcy, I'll be able to go ahead and look at the calendar and determine when it's going to be," he said. "It's going to be awesome. It's going to be one of the best commencements we've ever had."
The announcement comes as other universities across the state are taking similar precautions in the wake of the COVID-19 pandemic. 
Indiana University announced Sunday they would move their courses to online for the remainder of the semester. Students have until Friday to move out of campus housing.
The University of Evansville also announced today they will move all classes online for the rest of the semester along with Ivy Tech Community College.
"My goal is to remain as whole as possible," Rochon said. "I don't want students going hungry for example. We are going to be communicating to students to find out what those needs are and going that direction."
Leave a Comment