Former USI basketball coach appears on episode of 'The Bachelor'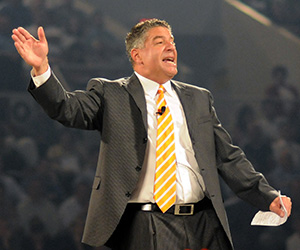 The university had a small connection to ABC's hit reality show 'The Bachelor' in last night's episode.
Bruce Pearl, who coached the USI's men's basketball team from 1992 to 2001, made his 'Bachelor' debut during a date between Bachelor Peter Weber and contestant Madison Prewett.
Prewett invited Weber to her hometown of Auburn, Alabama to meet her family as the 'meet the family' episode of the series. Prewett's father Chad Prewett coaches at Auburn University under Pearl, who took the job as head basketball coach in 2014. 
The episode also featured a video message from NBA Hall of Famer Charles Barkley, who played at Auburn for three seasons in the early 1980s.
Pearl made a cameo during Prewett and Weber's date playing basketball inside the arena.
He coached the two lovers through some drills before they went back to Prewett's house to meet her family. 
Pearl led the Screaming Eagles to four Great Lakes Valley Conference regular-season titles and a victory in the 1995 Division II national championship.
He is second in all-time victories as the men's basketball coach behind only current coach Rodney Watson. He left in 2001 after becoming the head coach at the University of Wisconsin-Milwaukee.
Now he can add "reality TV star" to his resume.