Luncheon to bring true sense of diversity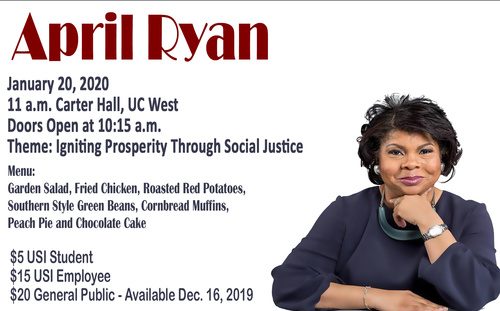 One annual event brings prominent African American speakers to USI in order to honor the life of Dr. Martin Luther King, Jr. 
The Dr. Martin Luther King, Jr. Memorial Luncheon is hosted by the USI Multicultural Center and USI Foundation and features a prominent African American Keynote Speaker. This year's speaker will be April Ryan, a White House Correspondent, a CNN political analyst and an award-winning author. Ryan is one of only three African Americans to serve on the board of the White House Correspondents Association. The event will be held at 11 a.m. Jan. 20 in Carter Hall.
Assistant Director of the Multicultural Center D'Angelo Taylor said the Luncheon is a way to honor the life and legacy of Dr. King. He said Ryan was selected because of her credentials, her close inner workings in Washington and the history she represents being one of the few black White House Correspondents and a black female correspondent. 
"Having that notoriety and understanding that she's been on CNN, she's been on multiple news networks and having her presence here is something that we really found intriguing," Taylor said. "The process of bringing her in, it's like with anything…you figure out what will work with your campus and we felt like (Ryan) worked very well."
The event is overseen by Executive Director of the Multicultural Center Pamela Hopson. Taylor, who had worked at the Multicultural Center for the past four years, said his main job is handling the logistics. 
 "In the Multicultural Center here at USI we're really driven on creating a great experience," he said. "So my job is to make sure that that goes off with the least amount of issues as possible."
Taylor said the Luncheon is great because it features speakers that have had significant moments in their career. He said Ryan had a moment recently when she was told to sit down by President Trump during a press conference back in 2018. Taylor said it's amazing to see someone involved in hard news journalism with ties to the White House as the speaker.
"We want to make sure that (students) are getting that experience that they're understanding now, in the legacy of Dr. King, where we are and where we can go," he said.
Taylor said events like the Luncheon bring a true sense of diversity, multiculturalism and understanding of issues that black people faced in the past and still face, the issues of people of color and people who have dealt with injustices in America. 
"It helps put it in a light that is understandable and palatable for some folks who may not be used to having that experience in their life," he said. "I think it shows that USI is committed not only to diversity and inclusion but also equity."
Taylor said students that come to the event will get a true message from someone who understands the issues that King overcame and faced in his movement, and get to sit in a room with people from different backgrounds.
Tickets can be purchased online on the USI website for $5 for USI students, $15 for USI employees and $20 for the general public.
"If you are someone who wants to be involved with these issues…this is a great event for you because you will meet a lot of like-minded people there that can help you out on that path," Taylor said.
Leave a Comment