Former student dies after 14-month battle with cancer
Former USI student Macy Simmons, 23, died Nov. 25 after a 14-month battle with osteosarcoma, a rare form of cancer that produces immature bone.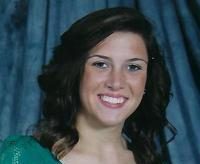 Simmons was surrounded by her family at Lucy Smith King Center Care Center in Henderson, Kentucky when she passed according to her obituary.
She graduated from Union County High School in 2015 and was a member of St. Agnes Catholic Church in her hometown of Uniontown, Kentucky. Simmons participated in Greek Life as a member of Sorority Delta Zeta. She was also an AMIGO according to a 2016 Indiana compensation report.
Visitation will be 3 to 8 p.m. Friday at Whitsell Funeral Home in Morganfield, Kentucky. Funeral services will be 10 a.m. Saturday at St. Ann Catholic Church in Morganfield. The burial will be in St. Agnes Cemetery in Uniontown according to the obituary.
Memorial contributions can be made to Riley's Research Children's Hospital, John Paul II Catholic School or St. Anthony's Hospice.