Students gather at Statehouse for Red for Ed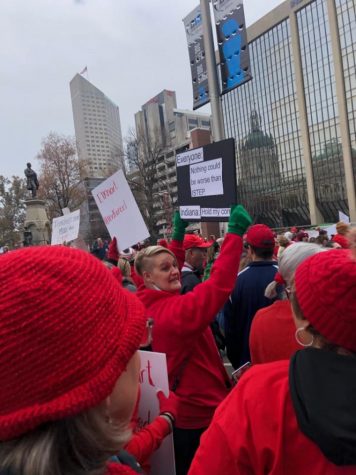 Nearly 12,000 teachers surrounded the Indiana Statehouse Nov. 19 to protest low teacher pay and lack of resources in the education system.
At least six students from the university traveled to Indianapolis to visit the Statehouse, said freshman elementary education major Serena Morgan.
Morgan first learned about Red for Ed while she was at a Student Education Association (SEA) meeting a couple of weeks ago.
Morgan said that she's seen that people who aren't education majors changing their profile pictures to "I support Red for Ed," a current frame on Facebook that can be added to someone's profile picture.
Freshman elementary education major Grace Johns also found out about the Red for Ed protest in a SEA meeting.
"Teacher pay is a really big issue, very wide-known issue," Johns said. "Considering that's our future, it is really important to me that we should get paid for all your responsibilities and things teachers have to do."
Johns said that it is not right that teachers have to use their own money for classroom supplies.
She said that she has seen a lot about Red for Ed on social media, and that's she's friends with other teachers on her Facebook and they're sharing things about the protest and even the 145 school districts that are closed because of it.
Red for Ed was an action plan to spread awareness about issues that teachers are facing across the nation, specifically in Indiana.
Some of the issues teachers face are low pay and lack of support in both the community and in the school system.
The average starting salary in Indiana is $35,943, according to the National Education Association website. The average salary is $50,614. Indiana's ranks 36 national for both.
The website also mentioned how teachers are not just fighting for their pay, but for the students as well. Teachers want classrooms that are conducive to learning.
Another issue is the lack of access to school counselors, nurses, psychologists and social workers in the school system.
Teachers were fighting for themselves as educators. They want a voice in shaping education policy as well as salaries that allow them to afford to stay in the profession they love without having to work another job, according to the website.
The Red for Ed protest also addressed the right for educators to have opportunities to learn and lead in their school communities.
Red for Ed also protested for the communities. The National Education Association website said that the community should have the, "access to opportunities, no matter what you look like, where you're from, or how much money your parents have."
Communities should have access to is schools that bring together academics, health and social services, youth community development as well as community engagement, according to the website.
The teacher pay gap is $.79 on the dollar according to the National Education Association website.
A Collective Bargaining Agreement Between the Evansville Vanderburgh County School Corporation and the Evansville Teachers Association report said the minimum teacher salary for EVCS is $38,000.
The average salary is $50,309 and the maximum is $70,000.