Students shine at Starbucks Open Mic Night
Tessa Robbins sang "Million Reasons" by Lady Gaga at a busy Starbucks when her friends, gathered at one of the tables, started swaying their cell phone flashlights in rhythm with the music.
"I had no idea they were going to do that," the freshman business administration major said. "I felt like I wanted to cry."
"Starbucks Open Mic Night" took place Nov. 14 on a small stage set up in the Rice Library Starbucks. The event was hosted by the Sodexo Student Board of Directors and participants signed up with a chance to win a free drink as a reward for their performance. 
Robbins, the first participant, sang "Cups" by A.P.  Carter and Luisa Gerstein and "Hallelujah" by Leonard Cohen along with "Million Reasons." She chose the songs after putting a poll on her snapchat for songs people wanted her to sing.
Robbins said her love of singing started after she used it to help her get through foster care. She said the family that adopted her was music centric.
She said she was nervous before the performance, but when she got up on stage, everything just clicked. 
"I feel like music is a passion of mine," Robbins said. "It's what I'm meant to do."
Aniyah Scott was the Emcee for the event. The sophomore public relations and advertising major is a member of Sodexo's Student Board of Directors who represent the student voice within Sodexo. Scott said the event was made to promote the board and draw more people to Starbucks.
She said they wanted to have an event that was less structured and more fluid. Scott said a lot of people have talent and with the in-and-out nature of Starbucks, people could come in and do a 15-minute set and leave so more people could participate.
"It's just a more fun experience," Scott said.
She said she thought the event would be a way for students to get a better feel of Sodexo and see that they care about students and not just food service.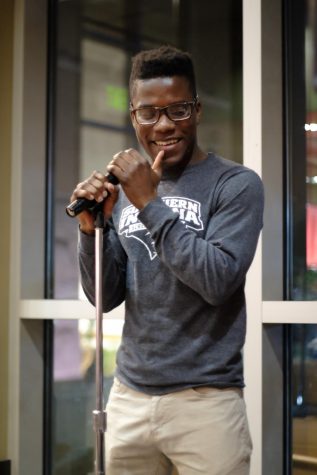 O'neel Occenat was the second performer and sang "Buy U A Drank" by T-Pain. The freshmen civil engineering major was at the event with his friends.
"They convinced me to do it and I loved it," Occenat said. "I had a great time."
He said he would do it again. 
"I didn't know I could sing in front of people, but I just got so comfortable," Occenat said.
Robbins said students interested in an event like this should definitely do it. She said she was not expecting the support she got from the audience with them clapping and singing along to the words.
"That's what we need," Robbins said. "Definitely reach out, because it's going to be worth it."
Leave a Comment