Volunteer eagles: playing country music for canned food
Every other week the Shield will interview a student involved in volunteer work. This week, Kaylee Johnson and Gabbie Lynn preview the Country Music Association's upcoming canned food drive.
Students looking for a chance to see Old Dominion in concert, while also giving back to the USI community will have their opportunity this week.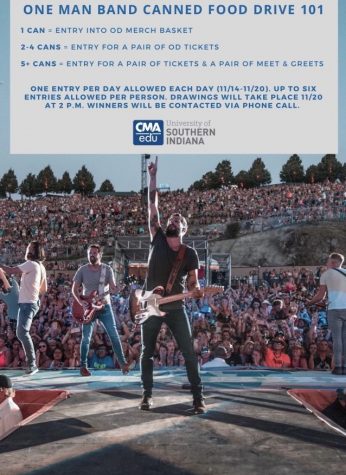 USI's chapter of the Country Music Association will host their canned food drive from Nov. 14 through Nov. 20, in the University Center East and West, from 11 a.m. to 1:30 p.m. each day.
CMA is a collegiate professional development program that gives college students an inside look into the music industry.
Their goal is to help college students jumpstart a career in the industry.
The organization helps charitable organizations while also pushing ticket sales for artists coming to town and promoting their appearance. 
The "One Man Band" canned food drive, named after Old Dominion's latest new single, is the first of its kind for the university's CMA chapter.
"We wanted to do something different and make it charitable because it's close to Thanksgiving," CMA President Kaylee Johnson said. "We wanted to do something we have never done before and make it a little bit bigger."
The organization will be giving away a merchandise basket, a pair of tickets and a pair of meet and greet tickets for Old Dominion's concert at the Ford Center Nov. 21 in exchange for canned foods and hygiene products which will go to Archie's Closet located in the Recreation, Fitness and Wellness Center.
Archie's Closet gives students, faculty, staff and administrators access to non-perishable food products and personal hygiene products. 
"They have a specific list of items that they need more than others so we are going to post that on our Instagram to let people know," Co-Vice President of Membership Gabbie Lynn said.
Winners will be decided based on a tiered system. Donating one canned food or hygiene item will enter participants into a drawing for the merchandise basket.
Donating two to four items will enter participants into a drawing for a pair of concert tickets and donating five or more items will enter them into a drawing for a pair of meet and greet tickets with the five-member band from Virginia.
Participants can only enter into the drawings once a day. CMA's goal is to collect 200 canned food items.
"The goal for this is to donate to Archies closet but also to get Old Dominion's information out and try to get more people interested in their show," Johnson said. "We really just wanted to get involved in a way we haven't before."
The winners of the giveaway will be announced Nov. 20 at 2 p.m. over the CMA Instagram account.