Pumpkin creations win Halloween glory at contest
Riley Laffoon said when her office manager Stephanie Fifer asked the Career Services student workers to consider creating a pumpkin for the Staff Council's fourth annual pumpkin contest, she did not expect to win.
"I was a little worried because I'm not the most creative person," the senior psychology major said. "But it was actually a lot easier than it looked."
Laffoon was a part of the Career Services team, whose ice cream pumpkin won first place. She said the idea was created by herself and Paige Hazelbaker, a junior biology major, and worked on by other students.
The contest was held Oct. 31 and was open to all members of the university. Students, staff, and faculty were allowed to submit their creations that were carved, decorated or painted. Everyone was encouraged to vote for their favorite pumpkins throughout the day.
The Career Services' student workers each received a $10 gift card as their reward for their ice cream bowl placing first. Second place went to the Library Services who won a $15 gift card to Starbucks and the third-place winner, Interim Director of IT Infrastructure Lance Woods, received a $10 AMC movie pass.
Laffoon said she and Hazelbaker looked on Pinterest for unique and cute ideas, hoping to find a way to decorate the pumpkin rather than carve it. The students took three days to find the perfect idea and a week to make.
Their pumpkin was painted as a scoop of strawberry ice cream in a blue bowl, complete with a spoon, sprinkles, whip cream, and a red cherry resting on top.
Hazelbaker said creating the pumpkin was a fun activity to do that allowed all the student workers to be creative and work together.
"As student workers, I think we are all getting really close," she said. "It was really cool coming up with the idea and making it altogether."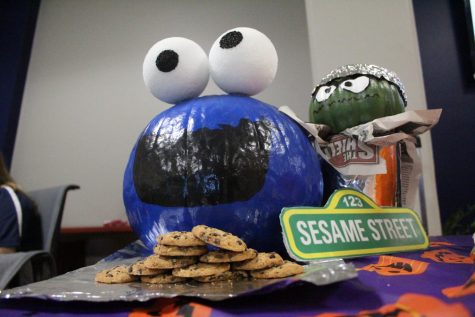 Senior Accounting Assistant Janet Ruddell and Senior Library Assistant Tammy Jewell said the pumpkin contest is something different they get to do that is apart from their normal day to day tasks.
The two library service workers created a cookie monster pumpkin because it was a cute, easy idea they knew people would like.
Ruddell said she and Jewell worked on and off for three days, applying layers of blue paint to their pumpkin, and they both were surprised to win. Ruddell said they split their gift card the next day for their morning coffee at the campus Starbucks.
The two women said, as staff workers, it is fun to participate in such a fun event on campus.
"It gives us a sense of community and this is something I feel like both the students and the faculty and staff can do together when they are voting on it," Jewell said. "I think part of the reason the staff likes working here, is because of the students. So, when we get to do things with the students it makes our jobs more enjoyable."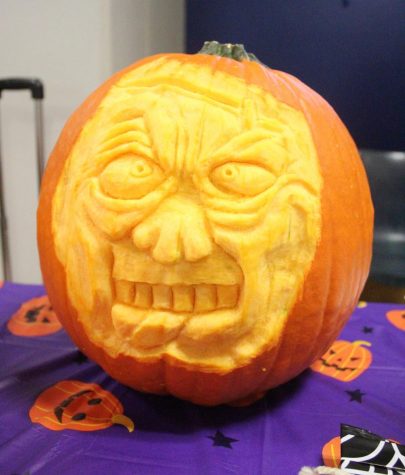 Lance Woods carved his pumpkin the night before Halloween, working to create a fun Frankenstein face.
He said he was inspired by his love for monsters and old monster movies.
Woods said he makes up the design of his pumpkins as he goes because it can be difficult to skin a pumpkin and carving can take its own path.
Woods said he loves participating every year in the pumpkin contest because he has always loved Halloween and this event shows the creativeness of people on campus.
"You can see the creativeness across campus, in students, staff, faculty," Woods said. "It's great to have events that are open and go across all the different areas of the university to try to get input from different points of view and different groups on campus."
Woods, Ruddell and Jewell said they were eager for next year's competition and are already thinking of ideas for their pumpkins.