Crafting art to craft a business
USI student balances school and personal projects
Carli Murkve sat in her great aunt's green room and felt inspired to draw her aunt's German Shepard. Focusing on the dog's brown eyes, Murkve said the calm scenery of the room helped inspire her to craft the piece. She gave the dog's image a textured fur with a clean and simplistic figure that focused on color.
The sophomore graphic design and illustration major said she had not only found a new style and perspective for her art that she loved, but also the confidence to begin selling her work.
Murkve became a serious art seller during her junior year of high school. Now pieces for her business, Carli's Sketches, are not only sold at conventions but through her own website and Instagram account to make even more sales for her growing art business.
While Murkve said she struggled freshman year of college to produce any art while taking courses, she has learned to adjust to the school requirements while also finding time to work on pieces. Even doodling for half an hour between classes or at lunch has helped Murkve find a balance between school and art.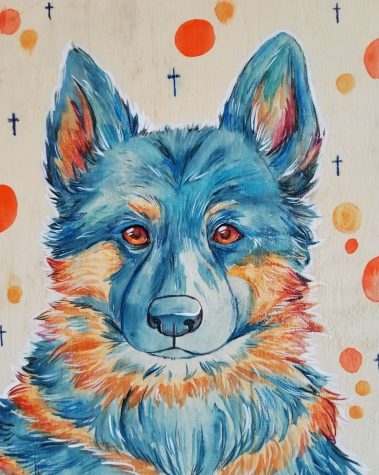 Murkve's friend, Leslie Moya, said the two spent many evenings in the Art Center working on art projects.
"To me (Murkve) is very talented," the illustration major said. "The way she does her artwork is unique. I've never seen anyone do that kind of artwork before until I met her."
Moya described Murkve's art as smooth, pastel with a distinctive watercolor style different from any she's seen before.
Moya said Murkve's art style reflects the artist's personality.
"I think of (Murkve) as a very bubbly and bright person and when you look at her art it seems that way," Moya said. "She's always using bright colors. It's never gloomy, never dark and very colorful. That's what I think of (Murkve)."
Murkve has been doing art since she was little. 
She said her style was very realistic and focused on human figures during middle school and high school. 
While Murkve enjoyed this style, she said her work was becoming too stiff as she tried to make every detail perfect.
Murkve describes her current style as less focused on being perfect and concentrated more on colors, layers and texture. She finds her inspiration through animals and other things that make her happy.
Murkve said she has found a great way to accomplish her style and focus on complementary colors by using watercolor for its transparency and wood as her canvas.
Wood, Murkve explained, allows her to build a lot of layers and still keep a bright, vivid texture while still providing a neutral-color background compared to a bright, white piece of paper.
Murkve hopes to expand her business into a livelihood as her business grows and her skills progress.
She believes the most important part of selling her pieces is to make people happy. 
Murkve said she hopes to inspire others to pursue their own dreams of being artists, the way her favorite artists have encouraged her.
"Don't be afraid to take a risk and don't feel like you have to listen to anybody's opinion," She said. "You are in control of your art and always keep dreaming big."