"Friends Facing Fears" creates unity, promotes friendship
Graduate students help promote book written by Castle North middle schoolers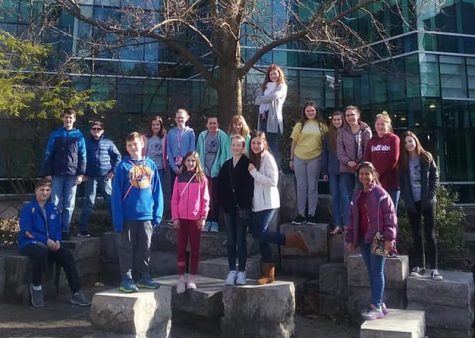 Kathleen Bolander finds middle schoolers inspiring, especially those in the GenerationOn club at Castle North Middle School.
Bolander, a graduate student working towards a master's in English degree, was one of eight graduate students who partnered with the middle school to help promote their yearly book launch with a website. Bolander's Public Digital Rhetoric class used the skills they learned in the class to design a website that would feature the middle school authors.
The GenerationOn club encourages students to engage with the community. The club writes a book every year to raise money for Dolly Parton's Imagination Library, which is a book-gifting program that mails free books to children from birth to age five.
Their book this year titled, "Friends Facing Fears," is about fears and how to overcome them. The graduate students created the website to promote their book, which includes information about the book and the student illustrators and writers that worked on it. There are photos and interviews with the middle schoolers and information on where to buy the book.
The graduate students used a comic book style template from wix.com to create the website and they interviewed the middles schoolers themselves about the contents of the book.
Bolander said working on this website and others throughout her English degree helped her gain appreciation for the digital world.
"I try to be set apart from the online world," Bolander said. "But being able to see it in that kind of controlled way where you're actually controlling and creating a site that you want it to be and give it to only those who you want to give it to, I really enjoyed that. The online world, the internet, is full of possibilities is absolutely wonderful what's able to be done with them."
Bolander had not worked with kids in a classroom setting before. She said this was the first time she interacted with middle schoolers in a few years.
"It was a neat experience for sure," Bolander said. "Being able to go over to Castle North Middle School and see their classroom and get to meet all of the members of their club, get to see their passion for what they're doing, it's really encouraging to know that there are students out there that are really passionate about literature. I think I sometimes forget that books can be an exciting thing still for kids in the world."
Assistant Professor of English Melanie Lee, who teaches the class, said the purpose of the website is to support and raise visibility of the project and to get the USI name out into the community.
Lee collaborated with the Castle North GenerationOn club last spring with her undergraduate class on the last book they did through her contact with Language Arts teacher Darlene Short.
"It's all about literacy," Lee said. "This is promoting reading and the book is designed for children and written by children for children."
Lee said students collaborating with the middle schoolers in the past got a sense of community and a service learning experience that they might not have gotten in other classes.
Bolander thinks any kind of partnership with the community is a great experience to have while in college.
"In my graduate career, this has been truly wonderful," Bolander said. "Just to be able to have an experience where you can influence or have some time of encouragement to a younger generation has been really fun."
View their website at: https://inspirecnms.wixsite.com/generationon