Stories from behind the podium: daring to derby
Instructor finds pastime passion through roller derby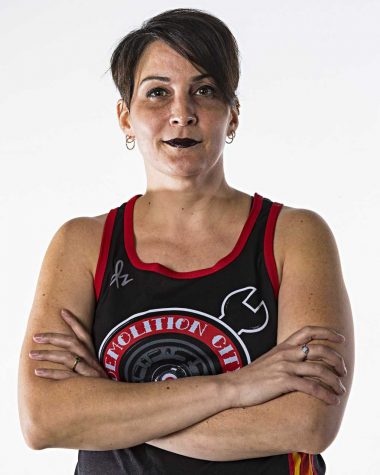 Every week The Shield will interview a professor, instructor or adjunct at USI to share the interesting lives of those who work and teach at the university. This week, Jennifer Horn, instructor of English and director of the college of liberal arts, talks about her involvement on a roller derby team.
Jennifer Horn said while watching the Bloomington roller derby team, Bleeding Heartland, she thought to herself, "I bet I can do this."
Nearly five years later, the instructor of English and director of the college of liberal arts living learning community still enjoys being a member of Evansville's Demolition City Roller Derby team.
"It took every ounce of courage I had to get over to Metro sports complex, walk in and say 'I'm here for roller derby,'" Horn said. "I love my job and I love working with students but I needed something else. And that was the something else I picked oddly enough."
Horn believes she's always been a strong person, but roller derby helps bring out a different part of her personality to the surface. Horn even uses a different name during roller derby, "Belleboa."
"I get to do cool things and go to places I won't have gone to otherwise," Horn said. "I've gone up against men and women who are twice my size and they are fierce. It takes something to stop somebody that's determined to run through you. You have to be able to use your body in a way that will stop them."
Horn said she loves the controlled chaos that comes with being a part of roller derby.
"For me it was a thing I needed," Horn said. "And still really enjoy. Once it gets in your blood, I'm not really sure it ever leaves you."
Participating in roller derby is also one of the first times Horn has played a sport.
"I am getting to be an athlete really for the first time," Horn said. "I'm not coordinated enough to do anything that involves something like softball or graceful enough like cheerleading, and I can't do things like volleyball. So, this is as close to a sport that I had the potential to be able to do."
Horn is one of the derby team's blockers, making sure that the team's jammer can get through to earn points while simultaneously blocking the other team's jammer.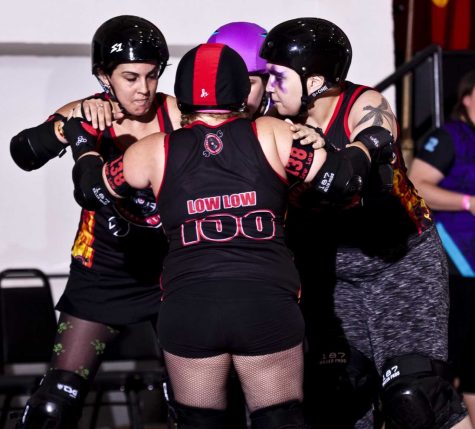 "It's really about using your body and relying on other people to keep jammers and other blockers behind you," Horn said. "You try to knock people out with your hips. You have to be able to block and get people out, so you have certain zones you can use from your body. We can lean against each other with our shoulders and things. It's all about being able to be a good solid wall."
Derby is more than just strength. Horn said it requires teamwork and being able to meet other skaters' abilities. As a member of the team, Horn said is always encouraging her teammates that it's "all about the baby steps."
Horn said she would never have met the amazing people on her team had it not been for roller derby. The team has a variety of people from ages 18 to late 40s from many different walks of life.
"I love my teammates," Horn said. "I think they are awesome and amazing, and I am constantly impressed by all the cool things they do but on and off the track. My team knows there are some things that I just hate doing but they are super patience in helping me get through those things."
Jolie "Sadie Stardust" Devries said Horn is a motivator who is always positive and works hard on improving her skills.
"She's improved a lot," Devries said. "She's learned about endurance and importance overcoming some general things like jumping and being outside her comfort zone because you have to do things that you might be afraid of, and she did it. That's a big accomplishment."
Devries said being a part of this team, she has grown to rely on her teammates for support.
"You're with them a lot and you learn to trust them both on and off the track that they're there for you in your time of need," Devries said. "Anytime you need anything we rally together and support each other."
Horn said one of the many reasons she enjoys the sport is that it is a physical, full contact sport for women and doesn't require you to look a certain way no matter your height, age, weight or ability.
"You don't have to have a certain athletic skill to do this," Horn said. "You can go in and do this and figure out what your body is going to do best. I am more confident about the things my body can do because of derby. As a woman in this society we all kind of, 'I'm not thin enough, I'm not tall enough, I'm not this, I'm not that,' but derby doesn't care what you look like."