Students collect signatures for TNR program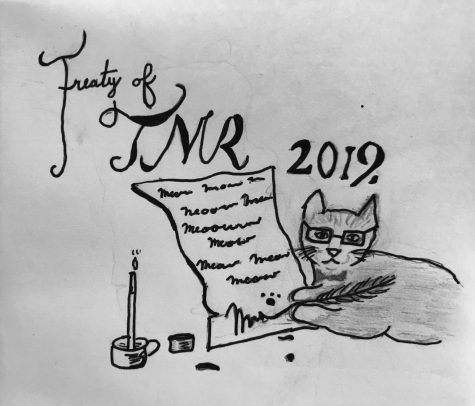 Victoria West grew up loving animals, nature and the environment. Now the senior psychology major is trying to help reduce the feral cat population at USI through Trap, Neuter and Release.
Victoria West is the Environmental Chair of the USI Honors Student Council. She became aware of the feral cats her freshman year from seeing them on campus. The Environmental Co-Chair Lizzie Sinning mentioned wanting to do something to help the feral cats, which was a goal West shared.
West created a Change.org petition that now sits at 302 signatures encouraging USI to adopt a TNR program. TNR involves trapping the cats, taking them to vet to be spayed or neutered and returning them to where they were trapped.
"We see (cats) around here on campus, it's kind of hard not to, and we wanted to help take care of them," West said.
West looked into the previous attempt made to adopt a TNR program at USI in 2014. She figured if it didn't work in the past, it would have to work eventually if students kept trying.
"That was what inspired me to start the petition," West said. "Might as well try again and not give up."
West said the petition is going pretty well, but it's lulled since the first week it was put up. She hopes it will keep gaining signatures while the Honors Student Council looks for funding options. West said the cost for the spay and neuter is 50 dollars for a female cat and 30 dollars for a male. This includes the surgery, associated care and the rabies vaccine.
West said USI is supportive of the TNR program, they just don't have the funding for it. The Council is currently looking into grants to cover the funds.
"Obviously, we have a lot of feral cats, and you definitely think about them a lot in the winter as they're exposed to elements and we're not supposed to feed them or aide in the care of them, so they're kind of just out there," West said.
West said the cats fall into an ecological niche with their control of the rodent and bird population.
"They belong where they're established their population," West said.
The university used to handle the feral cat population by trapping the cats and sending them to animal control after the population got too big. West said the issue with that is you never know if the cats will be adopted or euthanized.
"It still does nothing to control the population because cats reproduce rapidly," West said. "Through TNR, we'll have them spayed and neutered, and this will be the most humane and effective way to reduce the population so that we don't have hordes of rampant cats running across campus."
West thinks the petition has raised a lot of awareness for the fact that TNR is an option. She would encourage students to sign the petition to show the university that TNR is something that students are really passionate about.
"If we could show overwhelming support through the petition, that would be great," West said.
West said students should inform others about the TNR program and the petition through social media and word of mouth so more people can learn that TNR is a humane option.
Kennya Santiago Olmos said her resident assistants would always talk about the feral cats. The junior English teaching major noticed them since freshman year, but she thinks the problem is a lot worse now.
"I just see so many more now and I see kittens and I have friends who live in the area where there are the most…they say it even smells like urine over there," Santiago said.
Santiago saw the petition on Facebook. She loves animals and has a cat of her own and she thinks something needs to be done about the feral cats.
Santiago said the university and the students need to be better about animal safety.
"It's something that really isn't talked about in the university, on a university level," Santiago said. "Students talk about it, and it seems to not be recognized by anyone other than us."
Cameron Lewis had been waiting for some kind of petition or movement to help the cats when she saw the petition.
"I'm surprised it took as long as it did, but I'm really happy that someone else is taking notice of this issue and trying to do something about it," the junior English major said.
Lewis shared the petition with friends and she's gotten a few other people to sign it.
"I'm a big animal person, but especially cats, and it does just kind of break my heart seeing all those little stray cats on campus," Lewis said. "I feel like if campus should let this issue go on, the cats are just going to keep breeding, and they're just going to live on campus and they're not going to have a good life. I think something needs to be done about it."