USI professor tests local water safety
Assistant Professor of Chemistry at USI Brian Bohrer was unsure about the safety of lake water at the Bluegrass Fish and Wildlife Area.
According to IN.gov, "The Amaz Coal company began mining operations in October 1973, and ceased operations in 1993."
The strip mine eventually filled with water, and an effort was made to bring vegetation back to the area.
"Now it's like this really scenic finger lakes area," Bohrer said.
He said the area is frequented by families that take pictures with sunflowers or hunt waterfowl.
Though the area was remediated, questions remained about the safety of the lakes that exist in the former coal mine.
"The primary source of pollution contamination or cause of physiological or environmental concern was probably the heavy metals contained in coal," Bohrer said.
Coal is mainly a fuel source, but does contain heavy metals in various concentrations, he said. It is possible for coal to contain metals such as aluminum and zinc, or, in smaller quantities, more dangerous metals like arsenic, mercury and lead.
"Although we were pretty confident that the coal mining industry would take most of the coal with them, there's inevitably stuff that falls off the truck and then gets run over and pulverized into dust and gets blown away," Bohrer said.
We were concerned that this residue would leech into the water, he said.
"That being said, the hypothesis was that if this was previously a coal mine, how safe is this," Bohrer said.
We took measurements from the lakes and compared them to measurements taken in the surrounding geographical area, he said. Samples were collected from Reflection Lake, an apartment complex lake, the Bohrer Family Farm (which sits a mile away from BGFWA), among other areas.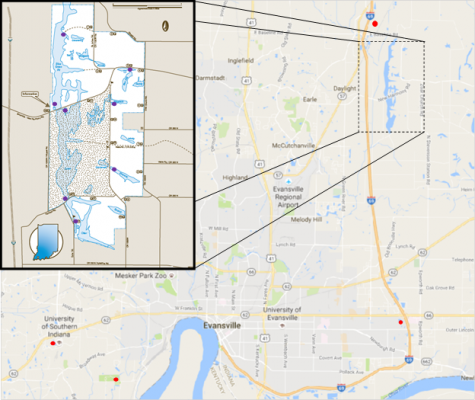 "I gathered some of the baseline samples and gathered all of the bluegrass samples myself on a bike ride," Bohrer said.
A total of four students helped with the study, he said. Three are undergrads at USI, and one is currently enrolled at IU.
Bohrer said we expected to find dissolved metals in any sample taken in (the Evansville) area, but wanted to know how that compared to measurements taken from the finger lakes.
In addition to comparing the heavy metal content of the BGFWA to the immediate geographical area, the team wanted to compare the data to EPA guidelines for aquatic life and drinking water, he said.
"We were looking at those as a pair of comparative tools to then use in interpreting our findings," Bohrer said.
The results of the study were a "mixed bag," he said.
"The first conclusion was that we found no evidence for metals being above any of these thresholds I just discussed," Bohrer said. "It seems to be a safe area. That's the really quick conclusion and happy ending you know we were happy to find that."
Still, there were some differences between the control data set and the data from the finger lakes.
"When an area like this is remediated, it's that threshold they really focus to get below, they aren't focused on making it just like the region, they are just looking to make it safe," Bohrer said.
It is possible that this is the reason for discrepancies in some of the metal content found in the BGFWA compared to the surrounding area.
According to Dr. Bohrer's paper, "Seventy-five percent or more of individual measurements from the BGFWA are greater in abundance for (barium) or (strontium) than the highest concentrations observed in the control dataset."
The levels at which the metals are present is not threatening, he said.
"Neither is really a big concern," Bohrer said. "(This is) not something the EPA seems to be that concerned with. There is a drinking water standard for barium, (but) not for strontium."
The other significant difference in the data set was the measurable amount of copper in the BGWFA that was not present in the other samples, he said.
"Again, none of those measurable levels were of concern in terms of being in terms of it being above some safety guideline for aquatic life," Bohrer said.
Bohrer is not done in this vein of research.
"There's definitely room for more investigation on this and students are definitely more than welcome to knock on our door and get involved," he said
Sydney Stocksdale contributed to this article.