The element of change
Ta'Meia Burleigh used to hate her hair.
The sophomore biology major looked at her tightly curled black hair and felt that the soft poofs were too bold and drew too much attention to herself. She would singe her hair under the heat of a flat iron, trying to make her hair into what she deemed beautiful—straight.
It wasn't until Burleigh came to college that she learned to love her hair, and everything else that made her an individual—her dark skin, her almond eyes and her wide smile.
Burleigh entered the Black History Month Oratorical Competition with her speech titled "The Colorful Truth."
Burleigh began her speech talking about little girls not accepting their curls.
"I was kind of talking about myself, in a way," Burleigh said. "But now I embrace it. I like that it is part of my individuality. It's the fact that it won't be contained. It can't be shifted and shaped and it does what it wants to do, and I feel like that's how people should be. You shouldn't be fit inside a box, you should be able to be expressive as you want to be."
Burleigh's speech won first place and a prize of $200.
"The Colorful Truth" was based off Burleigh's perception of humanity and coming to understand the beauty of individuality and the colors that unite us all.
"When you look at a demographic or a pie chart of all the different ethnicities that the world has and if you look at the colors of them there is pale, yellow tones and darker tones," she said. "But when you mix all the colors of the people in the world together they all make one single solid color."
Burleigh said she has learned there are more dimensions to people than simply what they look like.
"I see myself as someone who is really understanding, and I don't just look at someone and think I know everything about them," Burleigh said. "I really try to understand that there is more behind the mask. It's not just black and white, but it's the colorful truth."
D'Angelo Taylor said he wanted people to learn three things from the speech contest.
The assistant director of the multicultural center said he hoped people were inspired to do public speaking in the future, found a new perspective and learned how something evolves from an idea to reality.
"This contest started with three people and two people in the audience," Taylor said. "Now, we have eleven people signed up to speak and a full audience."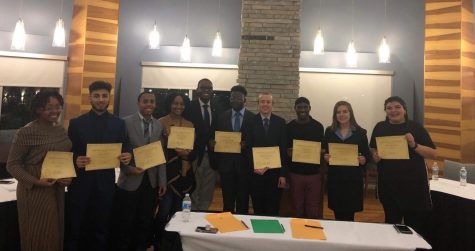 Taylor said the contest offered a different perspective to the traditional Black History Month dialogue.
"Too often we think of black history as, 'well, Rosa Parks sat on the bus and Martin Luther King gave an "I Have a Dream" speech' and we never talk about those freedom fighters that were involved in the shaping of Black History Month," Taylor said. "Even though it's called Black History Month, it a chance for all cultures to learn about different people."
Taylor said that while the larger theme of the night was black history, the smaller sub-theme was "the element of change." Each speech was centered on how each person interpreted the prompt.
"They have to do a ton of research for a black history month speech, especially when it's themed this way," Taylor said. "One, I want them to learn this stuff, especially if they don't know black history. Second, I want them to get over that fear of public speaking. Finally, I want them to come back down the line."
Burleigh said if you have a voice, use it.
"I just want people to know that if you have a voice and you want someone to hear it then you have to be willing to step up," Burleigh said. "It might not be easy the first time or the second time around but if you have something you want someone to hear you have to step up and say it. I hope I was able to move at least one person here.
Leave a Comment