After hours: the faces behind the radio
95.7 The Spin employees talk experience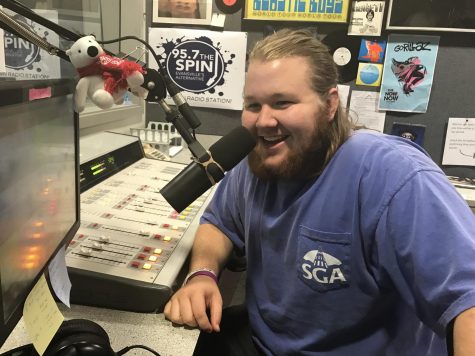 Each week The Shield will interview someone who is employed by the university. This week, Colin McDuffee, a junior radio and television major, talks about his job at 95.7 The Spin as Program Director. 
Colin McDuffee has always been the kind of person who loves music and talking, especially in front of people.
"Radio was a great way for me to channel that and be able to do both of those things at once," the junior radio and television and history major said. "I like to entertain, and I like to make things interesting for people."
McDuffee is the current program director of 95.7 The Spin, a student-run radio station playing alternative music, news and sports.
McDuffee was contacted before he came to USI by the then-general manager of WSWI Radio Station and instructor in radio and television, John Morris, due to his radio and television major.
McDuffee signed up for a volunteer DJ shift, before later signing up for a volunteer assistant music director position a couple months later.
McDuffee became music director within his freshman year, and was eventually promoted to his current title.
McDuffee is responsible for all the sounds that come out of the station. The DJs and news and sports departments report to him. McDuffee schedules the music every week along with PSAs and promos. He uses a program called GSelector to schedule out a week's worth of music.
"Through GSelector we have different algorithms within the program itself that decide during the day parts which songs play when," McDuffee said. "I worked on designing a clock, and a clock is basically an hour's worth of all of the programing that goes out over the station. So you've got music, PSAs and promos and sweepers, which are just 10 second IDs of the station."
The station is divided into categories including a breakdown of alternative hits from the 90s to 2009, a gold recurring category containing songs from after 2009 with bands like Green Day, Fall Out Boy and Panic! At the Disco and a category for new music.
"Within that clock, GSelector will categorize all the different songs and put one song in each one of those pieces of the pie for that entire hour, and that's what produces the hour-long of content we have," McDuffee said.
There was no program director when McDuffee took the job. Morris and and fellow student Aaron Chatman taught McDuffee how to use the programming. McDuffee eventually had to learn some things on his own using the program's manual and YouTube videos.
"I think, a lot of times, when it comes to student worker positions there are some times when there's a difficult transfer of knowledge," McDuffee said. "So something you have to get used to, as a university student employee, is the fact that at least every couple of years someone will be moving out of that position, whether they graduate or just move on because people change their minds a lot in college. So, sometimes you get in a situation where it's a little bit more difficult to learn the knowledge someone else had."
McDuffee has started writing down the things he does for The Spin and why he does them so if someone two or three years from now isn't sure how something was done, they can look it up in the station's cloud files.
McDuffee is scheduled for 10 hours a week, but often works at the radio station into the evening if something goes wrong like the music stops playing.
"We keep on top of making sure we're meeting all of the regulations, and in order to do that you have to be prepared to maybe come in outside of your hours and make sure that that gets accomplished," McDuffee said. "On top of being a student employee you are a student, and so it gets a little difficult sometimes if you're studying for a test or you're writing a paper and you have to stop that and head to the station to fix an issue that might happen. It gets a little bit stressful, but in the end, it's worth it because I'm gaining experience in my field and it's good training for what an actual job would be like."
McDuffee co-hosts a show titled "Colin and Riley in the Afternoons" with Riley Cornett on Monday, Wednesday and Friday from 2-3 p.m. McDuffee started with Cornett as the morning show team their freshman year.
"Our personalities just kind of clicked, and ever since then we've kept the same team, we've kept our shift together, and we do a show that is kind of based around pop culture and entertainment," McDuffee said.
McDuffee and Cornett do a request show on Friday where listeners can call in and request music.
"That's been probably my favorite part of working at the radio station is that bond that I've made with (Cornett), but also the people I get to work with and the people that come to DJ and the other members of the management team because it really pays off in those moments when you have to be there later than usual and you have to show up early," McDuffee said. "The people that you meet make it all worthwhile."
McDuffee plans on continuing with The Spin until he graduates to continue gaining experience. He plans on sticking with being the program director because he gets to work with a lot of different people on campus.
"(Program director) has been a rewarding experience because I still get to work with music that I really enjoy. I still get to DJ on air, but I get to interact with people and teach them what I've learned as a DJ."
Haley Isom spends most of her time at The Spin listening to music.
The sophomore theatre and radio and television major decided to get involved with radio because it was something she had an interest in as a child and she liked music a lot. Isom was working as a DJ when she found out about the assistant music director position. The former assistant music director graduated and Isom assumed the position before eventually becoming the music director.
Isom listens to music sent to the station by promoters, picks out good music and adds it to the new music selection.
"I'll hear a lot of my songs playing on there, and it's kind of cool to just hear a song that I really like or a song I think the general public will like," Isom said.
Isom receives the music through email and CDs sent by the promoters. She listens to the music while receiving feedback when she isn't sure if the general public will like a song. The section in the algorithm with the new music gets changed out when Isom adds new music every week.
Isom will occasionally write a music blog, record a breakdown or train DJs on how to use the board. Isom recently started co-hosting a podcast on The Spin's website called "The Spinning Reel Podcast" with Will Huck focusing on movies playing at Cinema USI.
"I really do love it," Isom said. "I picture myself in a career in radio because of my work here. I just like getting new music and seeing familiar faces around, and I like talking to people."
The biggest thing McDuffee learned from The Spin is how to adapt to being a student worker, being a student and being involved with extracurriculars.
"I came to college very unorganized, and I got very much more organized as I took on all these different roles because I had to," McDuffee said. "And I think that's one of the things I'll carry through from college as I enter the professional world.