'It just made me feel empowered'
Community marches in support of women
Haley Flamion wanted to be president, before an incident in middle school when her classmates told her she couldn't be.
"I want to tell (the kids) that one day it's possible that we're going to have a woman president," the freshman journalism major said.
Women's March Evansville 2019 was held Saturday at the University of Evansville campus. Protestors marched around campus carrying signs and chanting while cars drove by and honked their support.
This was the first march for three USI students.
Flamion learned about the march through her high school English teacher and brought up the idea to her friends. Flamion and her friends made their poster together before the march.
"She inspired me throughout high school and taught me what feminism and misogyny were," Flamion said.
Flamion wanted to attend the Women's March in D.C., but her driving plans were canceled.
"This was a great second option, and I'm really happy about the turnout," Flamion said. "A lot more people were here than I thought were going to show up with this weather."
Flamion said the march was amazing.
"When we first started off, it seemed like everyone was a little bit shy to shout the chants, but as we went it was just so empowering," Flamion said. "Everybody just started screaming, and there was a guy behind us that was really enunciating, so we could tell what every chant was in the beginning. It was really awesome yelling at the cars, too. I just wanted more and more cars to come and see what we were doing, and the honks were great."
Flamion wants to see more stuff like the march at USI.
"I think USI is a huge campus, and we have a lot of people that would be really interested in this stuff, but I think a lot of people are held back," Flamion said.
Flamion wants to see a climate change march, a science march, a women's march and a Black Lives Matter march at USI.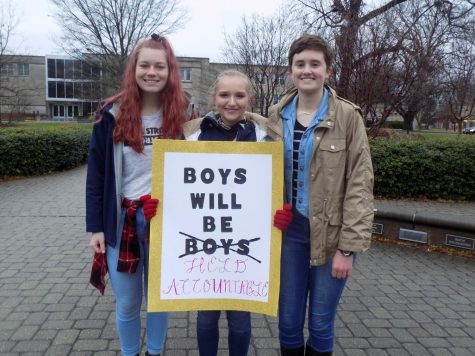 "I think the atmosphere in America, itself, is toxic," Flamion said. "I think that, other than changing laws, I think we need a whole entire mindset going on because women and men, in America, are being influenced by their parents and they're not reaching out to change enough. It's not even about being conservative or being liberal, it's the same reason there's been over seventy instances where white men are shooting schools because they're not allowed to express emotion when they grow up, and I think it's just a huge problem with raising our children."
Erika Uebelhor wanted to attend a march since her freshman year of high school.
"I've considered myself a feminist for a really long time so I just wanted to come out and support my fellow girls," the freshman political science and pre-law major said.
Uebelhor described the experience as amazing. She was glad the march was held in the center of Evansville so more people could see it.
"I was actually really happily surprised at how many men were here, too, showing their support for us as well," Uebelhor said.
Uebelhor felt invigorated during the march.
"Some of the chants really clicked with me with the message that they had," Uebelhor said. "So I had a huge smile on my face the whole time. It just made me feel empowered."
Uebelhor is a big supporter of pro-choice and the end of the gender pay gap, and she has written papers in high school over the subjects.
"The fight for legislating women's bodies has been going on for a long time, and I just think it's time we let it go cause every person has a right to make their own decisions and that's one of the big things I support," Uebelhor. "Also, the gender pay gap is ridiculous because if two people have the same qualifications, then they should be getting paid the same thing."
Uebelhor has already started planning her poster for next year, and she wants to attend more events like the march in the future.
Josi Barscz came to the march for equality and love for everyone, no matter someone's race, sexuality, gender or religion.
"We are all people, and we should all love each other no matter what," the freshman biochemistry major said. "I'm really here to support that, as well as the other backgrounds of the Women's March agenda, but I'm mostly here for love."
Barscz didn't get a chance to march before, due to her living in small town, but now that she's in Evansville she has more opportunities.
"It was so empowering to just be walking with so many people that have a similar belief system to you, and we're all trying to change something that we believe in and it was just really great," Barscz said. "We're all so creative with our cool posters and the chants. It was just a really great expression of our first amendment rights."
Barscz is bothered when women are afraid to speak up about assault because they don't think they'll be heard, and when they are heard, the person who assaulted them does not get punished.
"That's just not right and women deserve better than that, and we all just need to love each other," Barscz said. "Like I said before, we just need to love no matter what, no matter who they are, they're still a person and they're just like you. They have a heart and they have emotions, and we just need to show love and compassion to them."
Leave a Comment