Desiring to inspire others
Student gives TEDx talk about history of political cartoons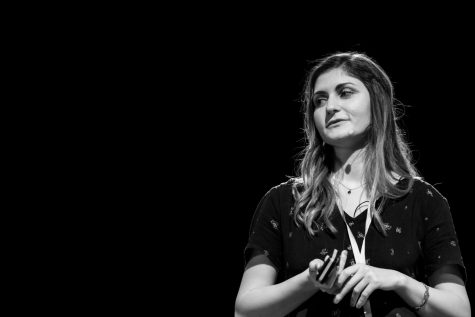 Salome Apkhazishvili felt her body fill with nerves as she took the stage in Tbilisi, Georgia for the 2018 TEDx talk.
Apkhazishvili, a USI graduate student working toward a master's in art and communications, gave a 15-minute speech covering the history of political cartoons in her home country of Georgia, which is located at the crossroads of Western Asia and Eastern Europe.
"I was really nervous to express my opinions clearly and logically because it's important to have some logic and clear ideas when you are on stage," Apkhazishvili said. "But I was proud of myself in that I managed to go back home and give a speech because it was not easy for me."
Apkhazishvili first became interested in political cartoons when she developed her master's thesis in Georgia about how political cartoons shape national identity. She went to the national archives and the national library in Georgia to read old Georgian newspapers and magazines.
Apkhazishvili initially read some articles before finding old political cartoons dating back a century ago.
"I was shocked because I did not expect that we had such a big tradition centuries ago," Apkhazishvili said.
Apkhazishvili wrote about the topic and decided to apply for the TEDx talk in Tbilisi to promote the topic to a big audience.
Apkhazishvili wrote five pages of her speech before recording it to send to the event organizers.
She had two preparations with a coach where they helped her with the main ideas in her speech and helped her to not lose the focus.
"When I'm really emotional and I'm talking in a really emotional sense, I lose focus which is the negative part of this TED experience," Apkhazishvili said. "I had to focus on the topic and they helped me to write this speech and to have focus."
TEDx covered the flight with their sponsor because she did not have the money to cover expenses. She had final exams the week she went to give the TEDx talk. Apkhazishvil stayed in Georgia for three weeks and she completed her finals online.
Apkhazishvili's speech went over the history of political cartoons in Georgia from 1901 to 1918 when Georgia gained independence from the Russian empire.
"When I was reading these newspapers and watching these political cartoons and caricatures, I had this feeling that Georgian newspapers and Georgian cartoons managed to have the independent opinion about political events in Georgia, not only about Georgian political events but international political events," Apkhazishvili said. "Georgian political cartoons show the big insight and big independence to cover main political events and political issues."
Apkhazishvili said the visual side as the cartoons were impressive and comparable to European and western standards of political cartooning.
"We did have a lot of achievements in political and educational fields but we managed to have really good newspapers and really good print media and really good political cartoons," Apkhazishvili said. "And I think it is because the Georgian art, in general, and Georgian culture was very close to European culture and we learned a lot from this culture."
Apkhazishvili said one of the main reasons she chose the topic was because the tradition of political cartoons is dead in Georgia. She said this is strange to her because Georgian media today lacks censorship, unlike when they were under Soviet Russia.
Apkhazishvili is a journalist with five years of experience. She grew up in the capital of Georgia, Tbilisi where she gained a bachelor's degree in journalism and mass communication and a master's degree in national and ethnic studies at Ivane Javakhishvili Tbilisi State University.
Though she initially wanted to become a dentist, Apkhazishvili became interested in journalism during her final years of secondary school.
"I was really good in writing, and also I like listening to different people's opinions," Apkhazishvili said. "And I just decided that journalism may be a good field to write and listen to people."
She started as a radio journalist when she was a journalism student, and it became her favorite platform for journalism which she wants to do again in the future.
In 2017, Apkhazishvili applied for the Fulbright Student Program through the American embassy in Georgia and had to go through three stages, including an application, an interview and two exams.
The American embassy contacted Apkhazishvili in May of 2018 to tell her she was selected for the Fulbright scholarship and she could study in America. The embassy chose for Apkhazishvili to attend USI.
Apkhazishvili said she liked the American system for higher education because she grew up studying in a university where she did not have a lot of access to really good higher education.
"The first thing I noticed here when I started active discussion and participating in classes was that I understood that everyone appreciates students here," Apkhazishvili said. "The school is oriented to student life, student achievements and this is a really equal space for everyone, for students, teachers and most importantly, international students here. And I never felt that someone offended my rights here, and I feel that I'm equal to other American students here, which is really good."
Associate Provost for International Programs and Services Heidi Gregori-Gahan knew Apkhazishvili through being the advisor for international students. In November, Gregori-Gahan traveled to Kentucky with Apkhazishvili to listen to an NPR journalist give a speech. They were driving down together when Apkhazishvili told Gregori-Cahan she was giving a TED Talk.
"She was so excited, and it was such an honor and we were so proud of her and happy for her that she got to do that," Gregori-Gahan said.
Gregori-Cahan said although the master's in communications program gave her opportunities, Apkhazishvili already came to USI as an amazing scholar and incredible student.
"I think her past experiences and past education also prepared her for this great honor that she was able to get," Gregori-Gahan said. "I hope that her experiences at USI and just being here in the United States, in general, will continue to help her grow and develop and be successful in her future career. And I think her having been enrolled in our program did contribute to her being able to do the TED Talk, so we're very proud of her."
Apkhazishvili said she learned a lot about herself through the audience's reaction to her speech. She said she learned to do more research in the future.
"I always listened to TED Talks and inspirational talks and it helped me a lot to change my life," Apkhazishvili said. "A lot of talks changed my life and changed the approaches I had regarding everyday life. So I really want to be one of them and inspire people."
Apkhazishvili will have to return to Georgia and work there for two years after she graduates in 2020 due to her visa. She wants to work for the government or governmental organizations to build media literacy in Georgia.
"If I learn a lot here and I gain some work experience in media literacy, Apkhazishvili said, "maybe I can do something for my country regarding media and information literacy."