'Crimes of Grindelwald' lacks charm of first movie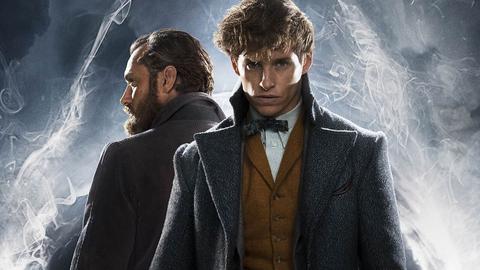 With Harry Potter finished, the Fantastic Beasts franchise has stepped up to capture the attention of new and old fans alike with a new story that still connects to the wizarding world.
The second installment to the Fantastic Beasts series, "Crimes of Grindelwald," was released mid-November and two years after its predecessor, continuing the story of beast-loving Hufflepuff Newt Scamander. "Crimes of Grindelwald" follows main protagonist Newt as he is recruited by former teacher Albus Dumbledore to find Credence, an Obscurial in danger of being enraptured by Grindelwald, a dark wizard with plans to raise pureblood wizards over non-magical beings and defeat Dumbledore using Credence.
Although "Crimes of Grindelwald" was very entertaining and had well-executed acting and special effects, it paled in comparison to the previous movie, "Fantastic Beasts and Where to Find Them." While the first movie was very character-driven and tight in plot, "Crimes of Grindelwald" felt as though a million plots were happening at once and exhibited with less characterization.
There is nothing wrong with complicated storylines, in fact, the more complex, the more entertaining and mysterious. "Crimes of Grindelwald" had many interesting plots, but it seemed as though all of them were tangled together and the audience could barely keep up. Including more character development could have softened the confusion of numerous conflicts, letting the audience take a break to watch the characters grow and interact with one another.
The stakes of the film also seemed a bit low. There was a build-up to the climax, but not much ended up happening. Grindelwald is portrayed as a dark and very charismatic character, so it would have been nice to see the true power that he wields in magic and over others. There were a few moments where Grindelwald's power was shown, but not to the extent it could've been. There should have been more intense, high-staked scenes with Grindelwald.
Despite having flaws and not quite living up to the previous film, "Crimes of Grindelwald" was very intriguing and fun to watch. A much younger Dumbledore is introduced, helping the audience learn a bit more about the professor as well as enjoy the character on the screen again.
It was also enjoyable to be introduced to other characters such as Newt's older brother Theseus and school friend Leta Lestrange. There was even more insight into Nagini, known as Voldemort's slithery companion in the Harry Potter series, but shown in "Crimes of Grindelwald" as a human, promising the audience that there is much more to Nagini than originally thought.
While there could have been more to offer in terms of characterization, the little scenes between Jacob and Queenie tugged at the heartstrings and the budding relationship between Newt and Tina was hard to miss. The introduction to more magical creatures was as awe-inspiring as the last film, the special effects and CGI used brought the creatures to life and gave each one of them a distinguishable personality.
While "Crimes of Grindelwald" didn't exactly live up to the previous film, it was still entertaining and important to watch if you're a fan of the Wizarding World franchise. The second movie could've been better, but perhaps it merely fell under second movie syndrome and is setting things up for much more promising plots and characterization in the remaining three films.
(3.5 / 5)