USI's new arena won't open until spring semester
After a series of pushbacks, the university's newly upgraded arena has an anticipated completion of spring 2019, construction project manager Gary Burgdorf said.
"As with all construction projects, timelines are subject to many shifting variables, including weather," Burgdorf said. "It is always our intent to safely deliver the best possible buildings as early as contributing factors allow."
He said that construction has been going well with the painting of the arena's ceiling now completed.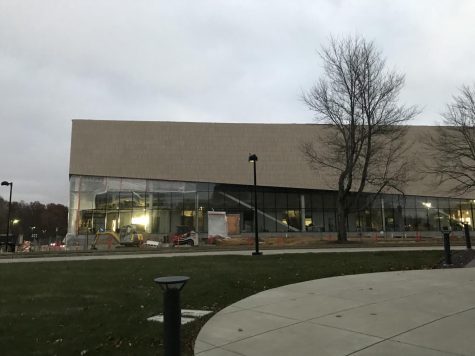 "Final grade work for the floor is underway, and the exterior and facade is nearly complete," Burgdorf said. "Fixtures in the restrooms and locker rooms are in progress. The new scoreboard is in place and mechanical systems are ready for start-up."
Burgdorf said if construction were to progress ahead of schedule it would possible for athletic teams to utilize the facility this season.

"However, with a spring 2019 completion date, that is still uncertain," he said.
He said some aspects originally planned for Phase II, including completion of the fourth side of the bowl arena seating, were moved into Phase I.
"Pushing that into the current project caused some delays as plans had to be updated," he said.
He said that due to inclement weather, the project saw some early delays.
The Board of Trustees approved renovations to Phase I of the PAC in late 2014, which has not seen any upgrades since its initial construction in 1980.
Vice President of Finance and Administration Steve Bridges told The Shield in April the university is using $1.6 million in state-funded Rehab and Rehabilitation money for utilities, $2 million in campus store reserves for the spirit store, $1.5 million from food services for concessions, $1.4 million in student fee debt service money and $3 million from special projects.
Additional funds were added to the $25,690,000 million in Phase I funding for work along Bennett Lane and portions of Phase II upper east seating.
Some of the main highlights of the new arena include a 4,800 seat bowl arena, a spirit store, improved concessions and updates to utilities.
A large four-sided scoreboard and video monitor will be a highlight of the new space, with additional locker room athletic training and conditioning space.
In addition to the arena, the construction includes the creation of additional academic space, including the Human Performance Laboratory and Instructional Performance Center, both state-of-the-art laboratory facilities for Kinesiology and Sport, Burgdorf said.
The reaction
Trent Thompson said he was intrigued by the PAC's construction because of his interest in architecture.
"I was unaware of the delays to the PAC," the freshman undecided major said. "However, I am excited for its completion because of a decrease in traffic."
Emma DeHart played in one of the largest gyms in high school. The sophomore elementary education major said she is excited to play comfortably in a large arena again.
"The team is excited to be in a new atmosphere, " DeHart said. "Having a new facility is a big thing, and because this is such a basketball-oriented school, that will really excite people more."
Though there have been delays, many players and coaches hope and plan to be playing on the court by the spring.
Through watching the virtual tour, renovations have given the players and coaches something big to look forward to. This is projected to be a big motivator for the team to have wins in games and the season.
As the hopes of playing in the new arena rise, the players are not the only people excited for the new renovations. Glen Roach, freshman mechanical engineering major, expects the school turns out to grow as the PAC does.
"It will gain some interest and bring some people in to see how it's progressing," Rouch says. "I definitely think that more people will come out to the games, especially, whenever it's done."  
Basketball is a major sport at USI, and it is encouraged that students attend the games to cheer on the Eagles.
"We would love for everyone to come out and support the basketball team," Rouch said. "We always love the atmosphere to be really hype and we would love everyone to come if they can."
The new building is hoping to be ready by the spring season for the Seniors final year here at USI. There are going to be a lot of wins in the arena and I think that's exciting," DeHart said.
Haviland Cardinal contributed to this story.