SGA kicks off Alcohol Awareness Week
Alcohol Awareness week, hosted in conjunction with the Student Government Association, kicked off Monday.
According to a study from the U.S. National Library of Medicine and National Institutes of Health, approximately one in every 10 university students had problematic alcohol use and 4.6% of students were in high-level problematic alcohol use, which was indicative of alcohol dependence.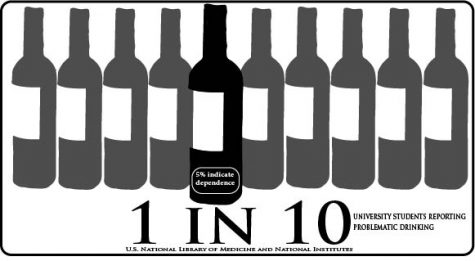 Students were in the breezeway Monday and Tuesday urging the community to sign a "Don't Drink and Drive, Save a Life" pledge as well as asking them to fill out a brick for the alcohol brick wall that will be displayed in UC West.
"To be blunt, SGA is focusing on drinking responsibly," SGA President Brad Flittner said in a statement. "We aren't crazy—we're not asking college students to never drink. We are focusing on teaching USI students how to drink responsibly for the safety of all students on campus, and providing the students with resources to learn more about drinking responsibly."
Charles Brown, the father of former Reitz high school student Logan Brown, who died in a drunk driving accident in early 2015, spoke to students Monday. His discussion focused on the dangers of drinking and driving and the impact it has had on his life.

SGA members also served mocktails with information about what would be in the drinks if they were alcoholic and how many it would take to reach innebreation. The organization also hosted a cookout on the quad along with a drunk driving simulation.
Vanderburgh County Sheriff Dave Wedding will speak today at 6:00 p.m. in UC 2207 about alcohol abuse and drinking and driving.
On Friday, SGA will host a donut with an officer event from 8 a.m. to 10 a.m. in the UC breezeway. Students will be able to get a donut and meet local VCSO deputies and Public Safety officers.
"Ultimately, we're trying to urge students to drink responsibly," SGA Attorney General Sarah Seward-Genung said in a statement. "Awareness is really about making good decisions. Try and drink in moderation. Don't drink and drive. Make good decisions because they will have a lasting impact"
Any policy violations including alcohol come from Housing and Residence Life, Public Safety and now with the USI VCSO Patrol Division.
"With the new sheriff's deputies we may have some additional information, not always, but sometimes we do," Assistant Dean of Students Laurie Berry said.
She said the Dean of Students Office (DOSO) evaluates that information, and in doing so, may find an alleged policy violation and then are assigned a hearing officer.
"Once we have identified there might be a policy violation we want to initiate this process in an expedient way so students are not waiting and they can come in and tell their side of the story," she said.
Berry said first-time offenders of the alcohol policy and lower-level drug cases must take a class.
Choices is a nationally recognized class focused on alcohol. Directions is an inhouse class focused on drugs and the decision to smoke or not smoke.
Berry said overall she has not seen an increase in policy violations.
"Although we run our reports at the end of the year, I'm not seeing a lot of difference as I recall with what we were doing last year," she said. "So there are some alcohol issues going on, but overall I am not seeing a great influx nor am I seeing an influx in the type."
Lower-level alcohol offenses include open containers, while the higher-level offenses might be drinking in an apartment or hosting a party with lots of residents.
"I like the education nature of things, we have the way we approach it because we know students are adults and are able to make decisions," Berry said. "Our whole aim of the conduct process is to help people come into compliance and follow the rules and regulations because the outcome is we want them to successfully navigate the educational experience, get their degree and move forward."
Berry said everyone makes mistakes along the way and everyone grows and changes.
"Hopefully we have set up a process that allows people to reflect on that change and move on to be productive citizens in the world," she said.