Putting history on display
John Hollidan's picture hung next to his uniform that fit his 7'6" frame on the third floor of the library. This display is just one of the many artifacts set up for the annual Archives Fest.  
Jennifer Greene said she hopes whoever comes to the Archives Fest gets that "wow" experience.
Last year, the fest was only a week long, but due to the growing interest in artifacts, the fest has been split into two weeks.
University Archives and Special Collections (UACS) hosts the Archives Fest on the third floor of Rice Library. The two-week fest began this week with photography and artifacts (Oct. 15-19) and will continue next week with historic books and documents (Oct. 22-26).
"We've got things like vintage clothing, a spittoon from the old L&N depot and various forms of photography," the university archivist and assistant librarian said. "I really want the students and faculty to see these wonderful treasures."
History has left a variety of hand-written letters, journals and diaries. Although the intent of most of those passing through the fest may be for a class, many people learn of different artifacts and become intrigued by the past.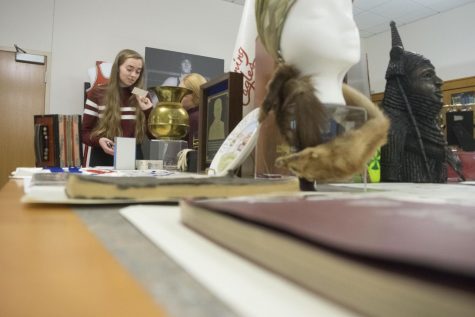 The goal of the Archives Fest is not only to enjoy and learn from the items, but to bring awareness to preserving the items. From dueling pistols to the history of Albion Fellows Bacon, the Archives Fest has a variety of items that can be appreciated by many.
When Senior Library Assistant James Wethington first started working for the UACS, he was fascinated by the fact that the items were right there in front of him.
"I would've never thought that I would see the doorknob from Hitler's nest in my life," Wethington said. "The artifacts are the reality of the history we have been taught. These items existed, and it is important to learn from the past in order to prevent the future."
Though the majority of the items are historical, there are also areas of modern artifacts, such as eco-villages, so anyone can view the history of yesterday, but also the movement of today.
Next week, the second half of Archive Fest is taking place. Students and faculty are encouraged to go to the UACS at any time. Whether it's to get information on a paper or to look at the artifacts, students are always welcome.
"We are open to the public," Greene said. "We are open to the students, anyone can come in at any time to talk to us."