USI, St. Vincent's to partner for autism conference
St.Vincent Hospital and the university will collaborate to host the fourth annual autism spectrum disorder conference.
1997 alumna Tangela Floyd, who now serves as the director of public relations for St. Vincent Indiana, said the conference hits close to home. Her 19-year-old son is on the autism spectrum and she said she wants to ensure every child has the resources necessary.
"We are targeting students, healthcare professionals and parents who have kids on the spectrum," she said. "Anyone in the community who is interested or just wants to learn more is welcome."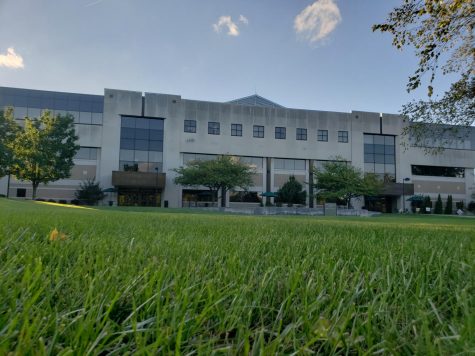 Floyd said education is vital to the Evansville community. She said St. Vincent's wants to let people know that there are experts on autism right here in the city.
"It's through our St. Vincent Center for Children, this is made to let people know they have the expertise right here in Evansville," she said. "Medical advice and additional resources for autism are one of the main things we want to emphasize."
Jessica Wood, interim chair of occupational therapy assistant program, who specializes in Sensory Processing Disorder (SPD), said that 6 percent of children have an SPD. She said she was surprised at how little people in Tri-state know about SPD, which can often accompany autism.

"There's a lot of families who don't know what (SPD) is in Evansville," she said. "And it's kind of surprising because all of the other states I have lived in knew about an occupational therapist."

Sensory Processing Disorder affects the senses including hearing, touch, or taste. Like with many illnesses, the symptoms of SPD exist on a spectrum.
She said that she typically sees children between two and three years old.
"Coming back to Evansville, it was like they weren't coming to therapy until they were school-aged and their teachers were like 'hey either you do something or you get put on medication,'" Wood said.
Wood runs a support group to help educate the general public.
"The first year of doing the support group, it was all educating," she said, "I think it's just people don't understand and I really think the more I was educating families, the look in parents face was like 'oh my God, I just didn't know.'"

Wood's current study is looking at the prevalence of SPD among young people. She said 20 percent of children are living with a sensory disorder that is affecting their life.

"When kids can't describe what they are feeling, one or two things happen, it's like the fight or flight response, they either close down or they fight and most boys with Sensory Processing Disorder are behavioral kids," she said.

She said she is excited for this year's conference because some of the structure has been changed.

"They changed it this year so there is a professional track and parent track," she said. "Because I think no one is going to be a better advocate for their kid than a parent. Once you become a parent, people don't get your kid like you get your kid, I think it's important for parents to go."
Wood plans to sit on the parent panel and wants to encourage parents that even if you change something small it can create vast difference for children.
"My intention is to help parents know that first, it's okay if you don't know all the answers," she said. "But kudos to you for being an advocate for your kid and wanting to know more."
She said she is looking forward to providing her educational expertise and help parents and children where she sees fit.
"I want to rally around how we can do this better," she said. "A lot of people with (SPD) also have accompanying autism and it makes it hard for them to function in society."
If you go:
The conference will take place Oct. 26 from 8 a.m. to 4 p.m. at the Evansville DoubleTree by Hilton, 601 Walnut St., Evansville, IN 47708.
The ASD conference will provide education through a series of expert speaker sessions, personal testimony and a panel discussion.
The following topics will be explored:

Creative and innovative ways to use a child's perseverations to achieve success
The struggles and possibilities of living with autism
The importance of the 10 unwritten social rules for those on the spectrum
Teaching Self-Control to Children with Autism Spectrum Disorder.

The cost is $20 per person and $95 per person for professionals seeking CEUs. Breakfast and lunch will be provided for attendees.Parking fees will be waived for event attendees