Conference to feature contemporary Spanish theater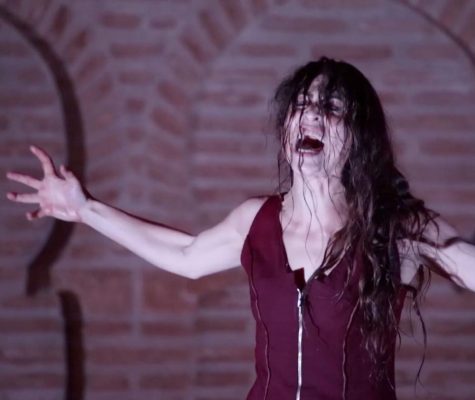 David Hitchcock said there is so much more to Spain than "Don Quixote" and flamingo dancers.
The Associate Professor of Spanish began planning the "New Harmony International Conference on Contemporary Spanish Theater: Stages of Utopia, Dystopia and Myopia" two years ago with the help from all four colleges, administration and New Harmony.
"It's a very rich culture," Hitchcock said. "A lot of the concerns we see expressed in the United States today: immigration issues, issues that deal with women in particular and questions of their autonomy and abuse and misogyny, these are things that are going to be represented in these plays."
The scholarly conference combining paper presentations and theatrical performances made by local, regional, national, and international participants will take place in New Harmony Oct. 9-12.
The event is free to the public. Buses will be provided the mornings of Oct. 10 and Oct. 12 for students interested in attending.
"New Harmony has been associated in history with planned communities and utopian constructs," Hitchcock said. "So the subtitle for this conference is, 'Stages of Utopia, Dystopia and Myopia' and it seemed like a good time in history to be discussing those kinds of issues and to be doing it at an international level."
The conference will feature scholars and performers from four different continents including places such as Egypt, Peru, and many European Countries.
Hitchcock said the individuals invited to perform are coming in primarily to make scholarly papers which all deal with the contemporary theater of Spain.
The conference will feature two professional performers from small theatrical companies in Sivil, Spain. They will both be re-performing new plays that recently made their premiere in Spain as early as January.
The first professional performance, "Love and Work," will take place Oct. 10.
"The piece is being done by a woman who is the head of a theatrical company actually called a circus," Hitchcock said. "A lot of what they do is very athletic. She and a former colleague are going to be doing a revival of a play they performed I think seven or eight years ago for the first time in Madrid."
"Love and Work" is one of the three professional pieces that will be performed in Spanish. Sheets will be provided for English speakers to allow them to follow along.
Hitchcock said 17 university students will be involved in the conference.
Nine Spanish students from Hitchcock's class, Contemporary Theater of Spain, and eight theater students will be reading some of the pieces performed in English.
Hitchcock said he thinks the themes in the conference will be refreshing and eye-opening, especially for those who might not know anything about Spain.
"I think it's a great opportunity to see how interconnected we all are," Hitchcock said. "But also how much great talent there is that ought to be recognized on an international campus."
Hitchcock said he is grateful for the help of the USI Foundation and university administration for being so supportive of the event. Hitchcock said he received help from departments all over the university.
He said a former colleague Candyce Leonard did the design for all the programs.
Hitchcock said the event was inspired by his own interest in the contemporary theater of Spain, which is his area of specialization.
"If you enjoy theater at all, in any kind of sense," Hitchcock said. "There is a little bit of everything that you can experience over the three days. The plays will provoke you to think a little bit about yourself and the world you're living in. You don't have to have been in a classroom to appreciate the universality of the themes presented in the plays."  
Leave a Comment