Former USI president honored at annual Founder's Day
Former President Linda Bennett was selected for the Honorary Alumni Award at the annual Founder's Day event in Carter Hall Sept. 12.
The Alumni Council gives the award to individuals who demonstrate outstanding service or generosity to the university.
Bennett started at the university in 2003, serving as vice president of academic affairs before being selected as provost. She became president in July of 2009 before retiring in June of this year.
"During her time as president she led initiatives focused on enrollment, retention, outreach and engagement, faculty development, retention of intellectual capital, accreditation renewal and long-range planning," Alumni Council President Stephen Craven said.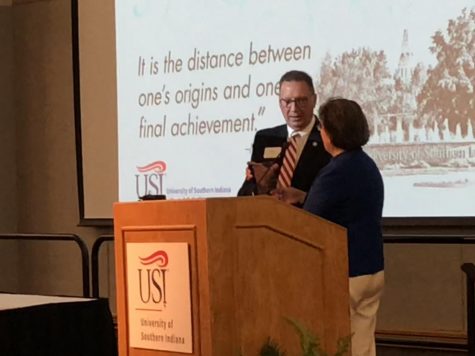 During Bennett's tenure as president, she oversaw the expansion of facilities on campus. Those include the construction and completion of the Business and Engineering Center, Performance Center, Ceramics Center, Applied Engineering Center, Griffin Center along with the continuing construction of the Fuquay Welcome Center and the Physical Activities Center.
She also oversaw USI's inclusion in the Stone Family Center for Health Services in downtown Evansville.
"I am very touched for this recognition from the Alumni Council," Bennett said. "We are in a period of time for higher education where it's going to be one of the most important groups in moving universities ahead."
The university was founded 52 years ago on Sept. 15, 1965, under the university's original name, Indiana State University – Evansville. The event is held to honor the founders of the university, all of whom have passed. The last surviving founder, Rolland "Ron" Eckels, died July 2, 2017.
Mathematics Department Chair Rick Hudson was also honored with the Faculty Recognition Award.
Hudson, a university alum, was the recipient of the 2016 Pott College Excellence in Teaching award and received a service, teaching and research mathematics grant in 2011.
"Earlier this year I was on a search committee for a faculty member here at USI and one of the candidates asked me, 'Why do you like your job? What keeps you here?'" he said. "I said it's the people, especially my colleagues in the math department. I cannot say enough good things about them."
The Alumni Council also recognized Randall Haaff with the Alumni Service Award.
Haaff, who graduated from the university in 1984, is currently a member of the USI Foundation Board of Directors and has served on the Alumni Council for many years.
He has a presidential scholarship as well as scholarships in all four colleges endowed in his name. He has served in financial services for 27 years.